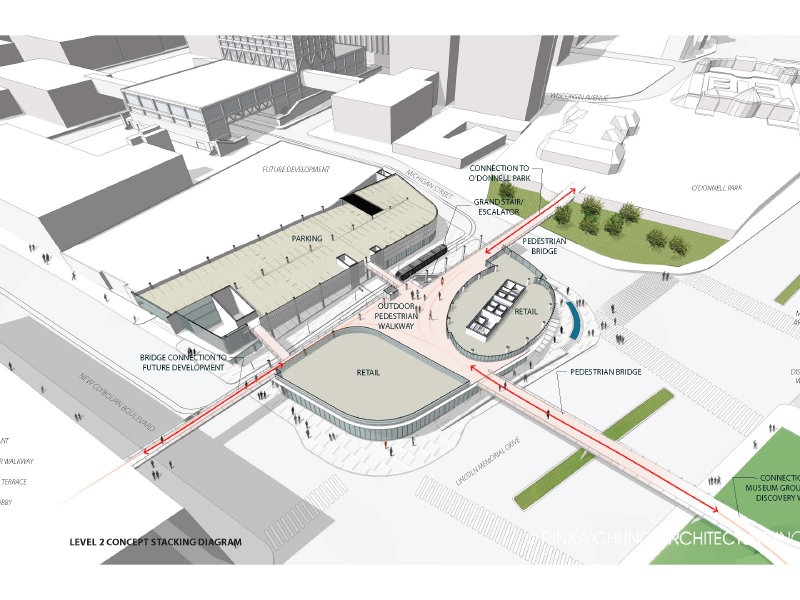 The office of the County Executive Chris Abele today released an updated plan -- announced in collaboration with Mayor Tom Barrett -- for the mixed-use Couture high-rise development on the lakefront.
The amended plan -- which, according to the release, follows two years of "negotiation and dialogue" with stakeholders -- for the building that would replace the Downtown Transit Center, on Michigan Street and Lincoln Memorial Drive, includes just under two acres of public space and a direct access link to the lakefront, in the form of pedestrian bridges spanning Lincoln Memorial Drive and Michigan and Clybourn Streets.
The plan also calls for a rooftop park, a public transportation concourse (which replaces some space originally planned for retail), a streetcar stop on a new spur of that system, a bike sharing station, public parking and a 44-story tower that would include retail space and about 300 apartments.
Plans for a hotel in the building, designed by Rinka Chung Architecture, were scrapped in June.
The eye-catching architecture would definitely add a new dimension to the Milwaukee skyline and retail on the ground would be much better than the faceless County-owned transit center that currently sits in the high-profile location.
"When Milwaukee County first chose Rick Barrett's Couture project, we saw an amazing opportunity that would be hard to top. This updated plan is even better. We are working hard to coordinate with our friends at the City, as always happens when partners work together, and we've taken a good project and made it great," said Abele in the statement.
"Not only are we adding and improving public space, we're replacing an eyesore along our lakefront and creating thousands of jobs, including a significant hiring focus in our underserved communities."
"The Couture and the public investments at this site set a new standard for access, amenities and connections between the lakefront and the rest of the city. The plan we are sharing today makes the public's interest a priority with its open spaces, its pedestrian access, and the transportation connections," Barrett added.
According to the joint statement, the $122 million Couture development would bring $17.5 million in public improvements, $68 million in property tax revenue over 30 years, (up from zero currently), 2,074 construction related jobs and 150 permanent jobs.
Developer Barrett Visionary Development has committed to 25% disadvantaged business enterprise participation and 40% Milwaukee County resident hiring as part of the project.
"We are tremendously excited to be moving forward with this transformational project," said Rick Barrett. "We are proud to be bringing significant new investment to Milwaukee, growing our community's tax base and creating thousands of new jobs."
Facebook comments
Disclaimer: Please note that Facebook comments are posted through Facebook and cannot be approved, edited or declined by OnMilwaukee.com. The opinions expressed in Facebook comments do not necessarily reflect those of OnMilwaukee.com or its staff.
Recent Articles & Blogs by Bobby Tanzilo