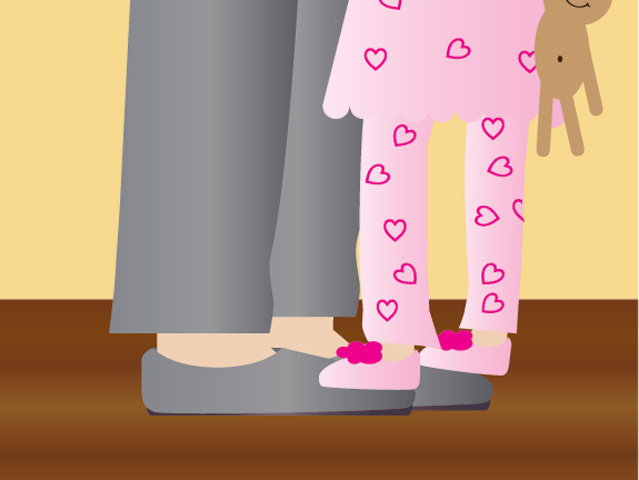 Children affect us in profound ways – it's true. But they also affect us in myriad little ways.
For example, I'm a drummer, but I'm no dancer. I'm too self-conscious and clumsy – a deadly combination on the dance floor. But then my daughter arrived.
We dance all the time lately. Sometimes in that crazy Peanuts sorta way, while a CD plays. Sometimes we just hug and move around a little and call it dancing. Sometimes, like the other night while we were making dinner, I lift her up and we do something like a waltz. On the most recent occasion, we're pretty sure our neighbor saw us through our facing kitchen windows, which made us laugh.
Maybe I should have seen it coming. Every year I get the Milwaukee Rec's press release for the annual Daddy/Daughter Dance at North Division and it makes me go, "awwww." Each year since my daughter's arrival, I momentarily ponder attending before thinking she might be a bit young.
This year's event – organized with Milwaukee Fatherhood Initiative and the Social Development Commission – is slated for Saturday, Feb. 16 from 5 to 8 p.m. at North Division, 1011 W. Center St., and once again I thought about going, but I think she's still a little young, though I don't really know the average age of the daughters (or the daddies).
"The Daddy/Daughter Dance is a chance for fathers and daughters to dress up and enjoy a great evening together," says MPS Recreation Supervisor Cedric Banks. "This event provides a great way for young ladies to strengthen their relationships with their fathers. We also encourage grandfathers, uncles, and other adult males who are father figures to sign up with the special little ladies in their lives."
Though I won't be there this year, I hope the daddies and daughters in attendance do a little waltzing – authentic or not – a little crazy Charlie Brown dancing and a whole lot of hugging.
Admission is $30 per couple, and up to two additional children may attend for $5 each. Doors open at 5 p.m. for pre-registered guests. Dinner is served at 5:15 p.m. and is limited to pre-registered guests only. Walk-up registration begins at 5:45 p.m. The pre-registration deadline is Monday, Feb. 11. For more information, please call (414) 475-8811. To register online, visit MilwaukeeRecreation.net.
Facebook comments
Disclaimer: Please note that Facebook comments are posted through Facebook and cannot be approved, edited or declined by OnMilwaukee.com. The opinions expressed in Facebook comments do not necessarily reflect those of OnMilwaukee.com or its staff.
Recent Articles & Blogs by Bobby Tanzilo