There are a number of changes under way at Discovery World on the lakefront, including newfound exhibition space, an existing exhibit that is ballooning and changes for the Innovation Theater.
The first to arrive will be a real excavator that visitors can operate using a set of controls. The museum has had a remote-controlled excavator for years, of course, but that one was toy-sized and behind plexiglass. This one, just a few feet away, is full-sized and accessible.
Visitors will be able to sit inside, though the control panel will be outside the cab. The new excavator will be up and running on Black Friday, Nov. 27.
Right nearby, the museum's staff is prepping the second annual appearance of the legendary Kooky Cooky House, which was a Milwaukee holiday tradition for decades at the old Capitol Court shopping center.
The newly constructed house debuted last year at D.W. but this year moves to a much more high profile space, right in the heart of the main exhibition area, as you can see in this photo:
Discovery World CEO Joel Brennan told me that the museum is "over-theatered," having two state of the art projection and presentation spaces on the first floor. Therefore, the Innovation Theater, next to the gift shop, will be re-purposed.
In order to do that, the tiered seating structure (the underside of which you can see in the photo below) will be dismantled. That structure is made of a thin layer of concrete atop a metal structure that will be relatively easily removed, according to Brennan.
The digital theater, with its stunning lake views, will remain and will become the locus of Discovery World's visual media programming and presentations.
Lastly, the museum has carved a new 5,000-square foot exhibition space out of an area that was previously used – and under-utilized, said Brennan – as storage and offices. The area is above the Kohl's Design It! Lab and is accessed via a new staircase.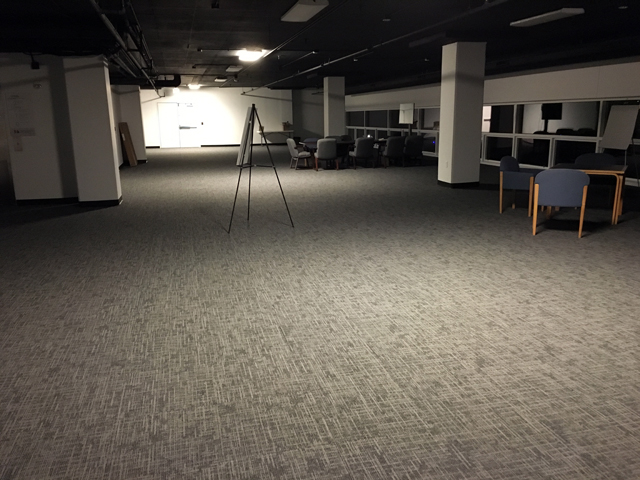 The space, which will likely be opened up to offer a view down over "Les Paul's House of Sound" and other exhibits, will debut in January with a traveling show, "Genome: Unlocking Life's Code," and will host temporary shows for about a year, according to Brennan, before a permanent health-related exhibit is installed there.
Facebook comments
Disclaimer: Please note that Facebook comments are posted through Facebook and cannot be approved, edited or declined by OnMilwaukee.com. The opinions expressed in Facebook comments do not necessarily reflect those of OnMilwaukee.com or its staff.
Recent Articles & Blogs by Bobby Tanzilo