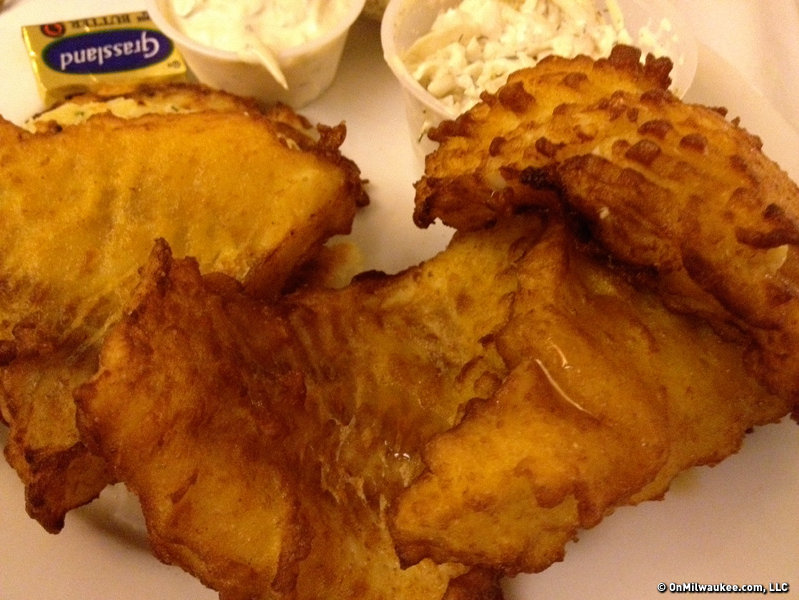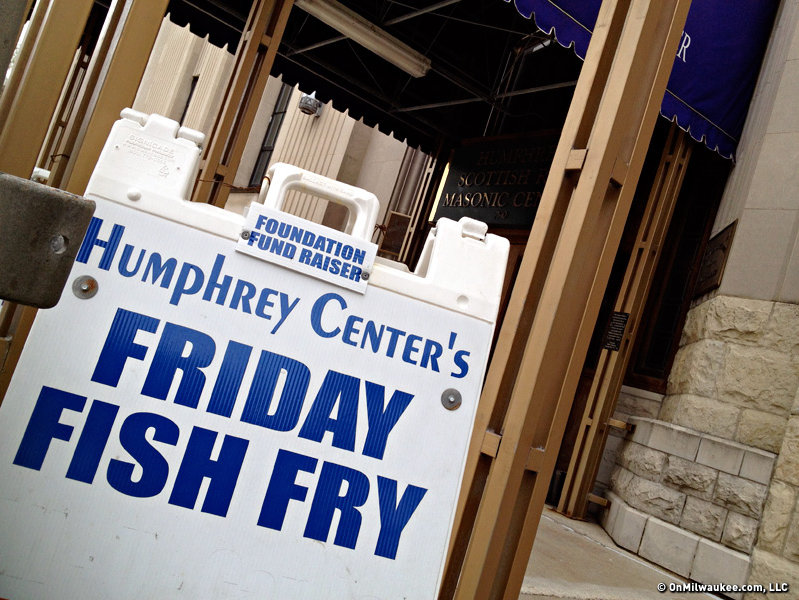 "One of Milwaukee's best kept secrets … if you can find the Double Eagle Pub, you will enjoy the Double Eagle Pub!"
So reads the website for the subterranean restaurant in the Humphrey Scottish Rite Masonic Center, 790 N. Van Buren St. Open only on Wednesdays, Thursdays and Fridays, the pub offers a fish fry and so, of course, I couldn't resist.
The site claims the place opens at 5 and on a recent Friday, I stopped over with the family. With the kids in tow, we arrived a bit early and expected to wait, until we noticed an exterior sign board that says the pub opens at 4:30.
Down the stairs, past hundreds and hundreds of faces in group photos of Masons that line the walls – including a couple famous ones if you look closely – we found the pub, but it was locked. A few minutes later, an employee arrived and let us in, at, maybe, 4:45.
That's how the Double Eagle Pub rolls: casual.
The employee, who turned out to be hostess, server and more, was cheery and friendly and chatted with the kids. She told me that the Double Eagle is open mainly for Scottish Rite members, but the public is most certainly welcome. It only occasionally gets super busy, she said, and the night we visited, though it was early, there were a mere handful of diners.
The vibe is casual and friendly; nice but no-nonsense. The menu is small but with some options.
In addition to the baked or fried cod ($11.95), there are a few appetizers (mozzarella marinara, buffalo wings, potato skins, potato chips – ranging in price from $3.95 to $7.95), a soup of the day ($2.50 a cup/$4 a bowl) and a couple salads ($3.95 for a spring salad, $8.95 for an entree version with grilled chicken), pizzas ($10-$14), burgers ($6.50-$7.75), a chicken sandwich ($7.25) and steak sandwich ($12.95).
We tried the house made potato chips, which were hot and delicious – the kids enjoyed best the ones that ballooned up – and came with a side of sour cream and chive dip.
The fish fry – with four crispy pieces of battered cod, a roll, tartar sauce and tasty coleslaw – was good, though disappointing in one aspect.
I noted with disappointment the lack of potato pancakes on the menu (fries are listed), but was happy to hear that they are, in fact, an option.
However, while the fish was crispy and delicious, the latkes were thick and heavy. They were made from coarsely mashed potatoes and appeared to be pan fried. Despite being quite clearly house-made, the thickness and density denied them crispness and they were, in the end, disappointing.
However, we had a nice time at the pub – which was something of a surprise despite the fact that I drive past the Scottish Rite nearly daily – and would certainly return. Next time, however, I'm trying the French fries with my fish.
Talkbacks
InTheView | May 13, 2013 at 5:30 p.m. (report)
Thanks for the review! I highly recommend the Double Eagle for a Friday night. Bring friends, ask about the organization. The building is gorgeous, and if you look at enough of the pictures on the walls, you might just recognize some of the people. If you're looking for something fun, search for the picture of Lee Sherman Dreyfus!
Bobby Tanzilo | May 13, 2013 at 12:59 p.m. (report)
There is, however, this line: "The fish fry with four crispy pieces of battered cod, a roll, tartar sauce and tasty coleslaw was good, though disappointing in one aspect."
Facebook comments
Disclaimer: Please note that Facebook comments are posted through Facebook and cannot be approved, edited or declined by OnMilwaukee.com. The opinions expressed in Facebook comments do not necessarily reflect those of OnMilwaukee.com or its staff.
Recent Articles & Blogs by Bobby Tanzilo