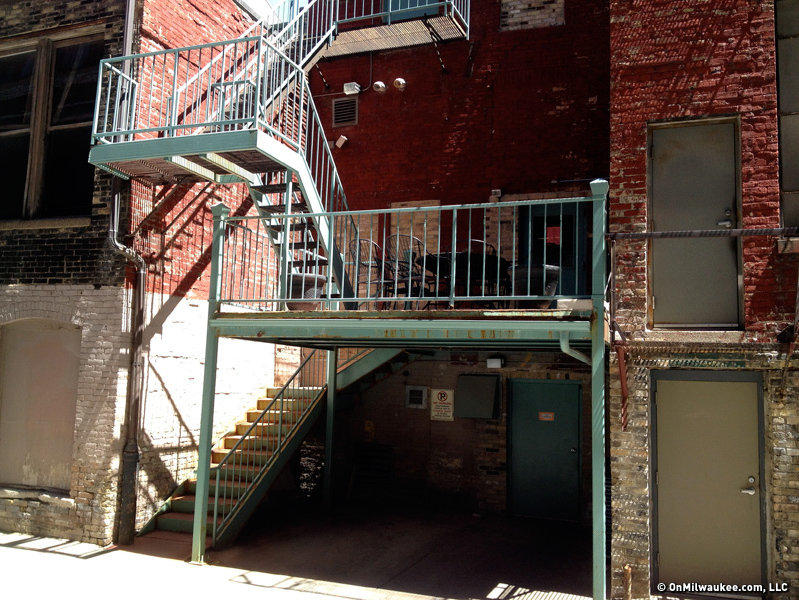 Shopping habits are changing, and as Milwaukee's retail landscape continues to evolve OnMilwaukee.com is pulling out the credit card for a full week of retail, shopping and commerce content. Stories about local stores, national retailers, online shopping and more. OnMilwaukee.com "Retail Week" will highlight shopping through a creative and diverse lens.
Maybe it's because I'm reading Jane Jacobs' landmark "The Death and Life of Great American Cities." Maybe it's because our almost-complete new office space looks straight down onto it. Onto Front Street, that is; that one short block of apparent nothingness, surrounded by the force that is the Safe House.
For a variety of reasons, then, I've been thinking about Front Street, which now seems so ironically named, fronting as it does onto nothing and serving as the ultimate definition of a Milwaukee "backstreet." It might, arguably, be the only "backstreet" left in the heart of the city (Market and Everett might also qualify. I'll let the talkbackers duke that one out).
Looking down, in the photo above, there's not much to see on Front Street. At street level it's much the same. The eight-story building converted to the City Hall Square Apartments takes up much of the west side of the street. There's also the building's more recently constructed parking structure and the buildings that form the Safe House complex, up at Wells Street.
An office building takes up about a third of the east side of the block, from Wells Street south. Then there is a strip of beautiful vintage store fronts running along the rest of that side. Atop some of those buildings are patios serving folks who live above the retail space.
In the evenings, Safe House customers provide most traffic. During the day it's delivery and service vehicles serving the Water Street businesses on the east side of the street.
Mostly, a pretty humdrum scene.
But when I look at it, I see a block adorned with hanging baskets. Artists have designed lighting installations that span the narrow street, which has a strip of brick pavers down the center. Tables lining the sidewalks behind the Water Street restaurants like Waterfront Deli and Rodizio Grill. The narrow service area between the Safe House and the City Hall Square lot has been transformed into a beer garden that accesses the Riverwalk – and the outdoor China Gourmet patio, too – behind it. Ground floor space at City Hall Square has been converted to retail and dining.
In season, Front Street is the most exciting street Downtown. There's only one problem. This image exists only in my mind.
Despite the way many planners have approached cities – that is, by creating open space – Jacobs argues that short blocks without "missing teeth" (empty lots between buildings) and with buildings as boundaries that make us feel safe are what draw people and make for vibrant, alive streets. A mix of new and old buildings of varying size helps, too. Front Street has all of this.
And it has proximity. Bustling Water Street nightlife, The Pabst, Milwaukee Rep, The InterCon, the Marcus Center. All this and more is a mere block's walk away. The Riverwalk is steps away. There are seed businesses already on the block: Rodizio, Safe House, Waterfront Deli, an art gallery that could stay open late. Waterfront already has a deck out back with space beneath, too. There's a Bruegger's and a Jimmy John's, too.
Why aren't we looking at opportunities like these?
Sure, there are issues. The businesses need the street as access for deliveries. Well, that's true everywhere and it's made to work. Anyone who has been to Paris' Rue Cler knows that the street is as vibrant as any in the world. If you've slept in a Rue Cler hotel, you also know that the service vehicles – and the street washers with their hoses, brooms and rolled up rugs come through in morning before the street really awakens. C'est la vie.
There is not abundant "open space" on Front Street for tables. Well, that's the point. It's intimate. Again, there are streets this size around the world that have sidewalk dining and vibrant retail.
Are there problems facing Front Street that are insurmountable? Hardly seems so.
Let's put the "front" back in Front Street, Milwaukee.
Facebook comments
Disclaimer: Please note that Facebook comments are posted through Facebook and cannot be approved, edited or declined by OnMilwaukee.com. The opinions expressed in Facebook comments do not necessarily reflect those of OnMilwaukee.com or its staff.
Recent Articles & Blogs by Bobby Tanzilo