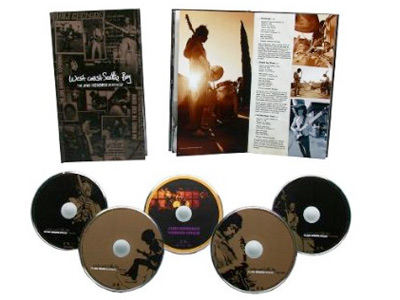 Hendrix fans have had many reasons to celebrate in recent years as more and more material has surfaced from the late rock and roll guitar god. Now, a new five-disc set arrives just in time to burn a hole in your stocking.
"West Coast Seattle Boy: The Jimi Hendrix Anthology" (Experience Hendrix/Sony Legacy) is my favorite so far of all the many Hendrix reissues. The reason is collected on disc one.
That's the place where 15 slices of pre-Hendrix Hendrix reside. Here is the music where Hendrix cut his teeth, working the R&B circuit and studio scene. More than simply tunes on which Hendrix worked, this is the music where he learned to be Hendrix.
Just check out the vocal on and the manic performance of The Isley Brothers' "Testify" -- and the vocal and guitar on their "Move Over and Let Me Dance" -- and you've got a blueprint for the Hendrix sound.
Listen to Jimi's intro to Rosa Lee Brooks' "My Diary" and you'll hear a sound and style that presage later material like "Axis: Bold As Love" and "Angel."
You also get some familiar music, like Don Covay's "Mercy, Mercy," with Hendrix's guitar right up front. You've likely heard the song dozens of times, but maybe didn't know our man Jimi was on board.
But even if you don't groove on this early stuff like I do, discs two, three and four are packed with unreleased versions from his solo years. There are 44 live tracks, studio outtakes and alternate mixes.
The fifth disc is a DVD of the acclaimed Hendrix documentary, "Voodoo Child," which tells the guitarist's story through live footage and his own words. A 54-page book is packed with photos and information on the included tracks.
The set carries a suggested retail price of $69.98. There is also a single-disc version (without the R&B gems) for about $13, a two-disc version that pairs the single disc with the DVD for $19.98 and an eight LP vinyl version for $99.98.
Facebook comments
Disclaimer: Please note that Facebook comments are posted through Facebook and cannot be approved, edited or declined by OnMilwaukee.com. The opinions expressed in Facebook comments do not necessarily reflect those of OnMilwaukee.com or its staff.
Recent Articles & Blogs by Bobby Tanzilo