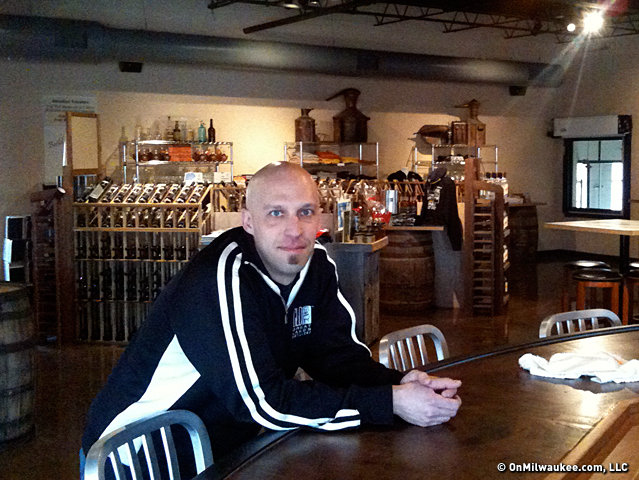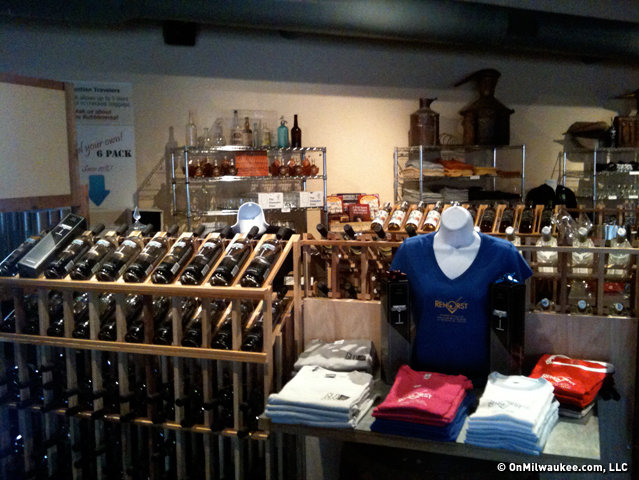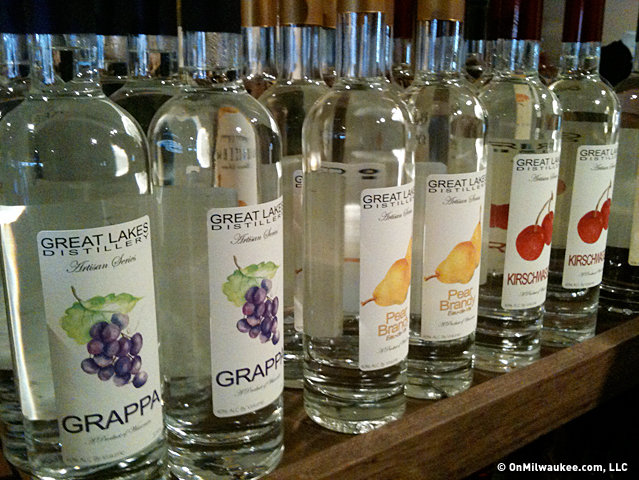 "Bar Month" at OnMilwaukee.com – brought to you by Hornitos, OR-G, Party Armor, Red Stag, Absolut, Fireball and Malibu – is back for another round! The whole month of February, we're serving up intoxicatingly fun articles on bars and clubs – including guides, the latest trends, bar reviews and more. Grab a designated driver and dive in!
The Great Lakes Distillery tasting room has opened at 616 W. Virginia, at the corner of 6th and Virginia, adjacent to the distillery, in Walker's Point.
A patio that can accommodate about 65 people and offers views of the now-booming area – including the Iron Horse Hotel, Conejito's and Juto across the street – and out toward the Downtown skyline, too, is still under construction.
The tasting room contains a bar (lined with slats from oak barrels), a shop selling Rehorst spirits, along with glassware, T-shirts and more, and a pair of windows that look down into the distillery below.
But, unlike a tavern, the tasting room doesn't have a liquor license and can only offer products made on-site. However, with all the activity taking place downstairs, there's a lot to choose from.
"Even though this looks like a bar now," says Great Lakes' master distiller and product manager Doug Mackenzie, "the same rules apply as down there (in the distillery).
"We don't sell beer, we don't sell wine. But we've got a great staff (and) they'll take our bottles of vodka and make homemade orange liqueur, homemade coffee liqueur. So there's always going to be a rotating menu of different cocktails depending on what we've got in stock and what the guys have made up here."
The tasting room is open Monday through Thursday, 10 a.m. until 10 p.m., Friday and Saturday, 10 a.m. until midnight, and Sunday from 10 until 8 p.m.
Distillery tours are offered at 2 and 4 p.m. daily. There are also tours at 6 p.m. Friday, and at 1 and 3 on Saturday.
Facebook comments
Disclaimer: Please note that Facebook comments are posted through Facebook and cannot be approved, edited or declined by OnMilwaukee.com. The opinions expressed in Facebook comments do not necessarily reflect those of OnMilwaukee.com or its staff.
Recent Articles & Blogs by Bobby Tanzilo