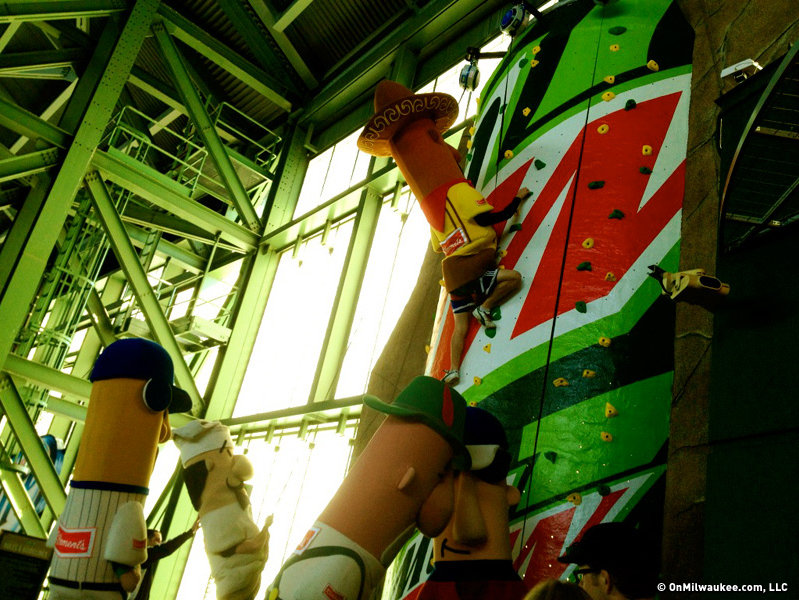 No joke – it was a balmy 28 degrees when I pulled up outside Miller Park this morning to get a peek at some upgrades to the stadium in advance of the team's April 1 opener. Hard to imagine how anyone will make it through a game a week from Monday if the weather doesn't round third soon ... and quickly.
When the Brewers take the field for the first time, though, fans will have a few new stadium areas to enjoy.
The Dew Deck, out above the right field bleachers has gotten a bit of an overhaul with new lighting, new ceilings, flat panel TVs and other upgrades. The most obvious is the 25-foot rock climbing wall that feels even higher thanks to its positioning in the lofty Dew Deck. Up to four climbers can scale the wall at a time.
The deck is open to groups of 25 to 260, but not to individuals. So get your friends or workmates together and call (414) 902-4777 to get ticket details.
Ever so slightly to the east is the new Miller Lite Party Deck with spectacular views from right field. There's room for 70 with a bar, a buffet counter, TVs and two levels of seating. Call the number above for ticket info. Again, you need a group; you can't buy a ticket or two.
Up on Club Level, the main area behind home plate has been rebranded the SKYY Lounge and existing concessions have been replaced or remodeled, giving the area a new look.
There are also some new food options, too, including a range of panini – Italian, Cuban and vegetarian – that can be purchased at the Hot Cheese Corner concession in the right field corner.
"People expect new things even though this is a relatively new ballpark," says Brewers Chief Operating Officer Rick Schlesinger. "To keep fans engaged. (Offering) new ways to watch the game and socialize is what we want to do.
"Fans want an all inclusive ticket, so they don't have to keep pulling out their wallets."
Facebook comments
Disclaimer: Please note that Facebook comments are posted through Facebook and cannot be approved, edited or declined by OnMilwaukee.com. The opinions expressed in Facebook comments do not necessarily reflect those of OnMilwaukee.com or its staff.
Recent Articles & Blogs by Bobby Tanzilo