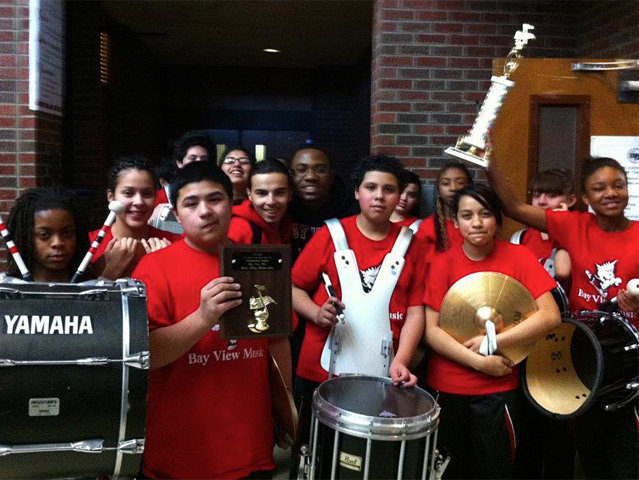 Tomorrow is the day when the best young musicians from around Milwaukee get together for a big biennial extravaganza.
That event is the 44th Biennial Music Festival at the U.S. Cellular Arena at 6:30 p.m. and more than 2,500 student musicians from MPS schools – from elementary through high school – and, for the first time ever, non-MPS schools, will perform.
On the schedule is the largest-ever single choir performance in the 88-year history of the event. The piece to be performed is an original composition by veteran MPS teacher Constance Aehl and local musician and studio owner John Tanner.
Musicians perform in groups such as Elementary String Group, Elementary Chorus, Band, Orchestra, Jazz Ensemble and Drum Corps.
"The concert is a culmination of all the hard work done by the students and teachers during the year," says Jeanne Kahn, retired director of the MPS harp program (1979 - 2005).
"It is an exciting sight to see when all the performers come into the Arena to the sound of drums. It is easy to get teary-eyed when everyone sings as one voice during 'The Star Spangled Banner.' It is also fun and exciting, too, when the director of the Festival asks everyone in the audience to stand up if they ever participated in a Festival. More than half the audience stands up!"
Kahn notes with sadness that the formerly two-day event has now been slashed to a single day due to budget cuts.
But it's still alive and, says Kahn, it has a long tradition.
"There have been five generations of the Bergeim family that have participated since the early days," she says. "MPS is constantly the source of negative publicity, so it is wonderful to see the other side of the coin in a concert that features thousands of students of the entire MPS school population. What a fantastic experience for music students to have in their lives!"
Tickets for the event are $5.
Facebook comments
Disclaimer: Please note that Facebook comments are posted through Facebook and cannot be approved, edited or declined by OnMilwaukee.com. The opinions expressed in Facebook comments do not necessarily reflect those of OnMilwaukee.com or its staff.
Recent Articles & Blogs by Bobby Tanzilo