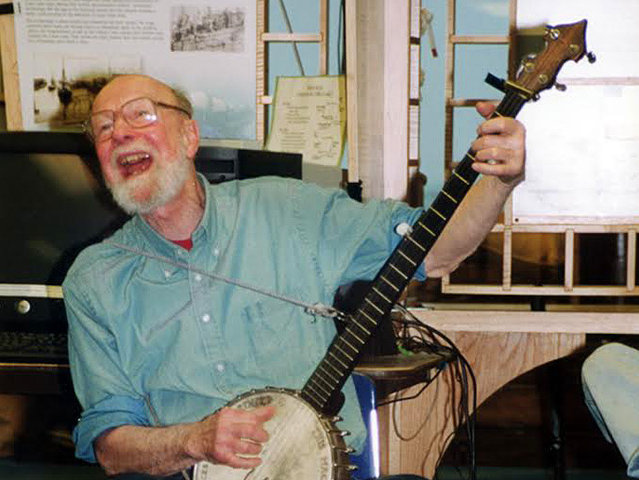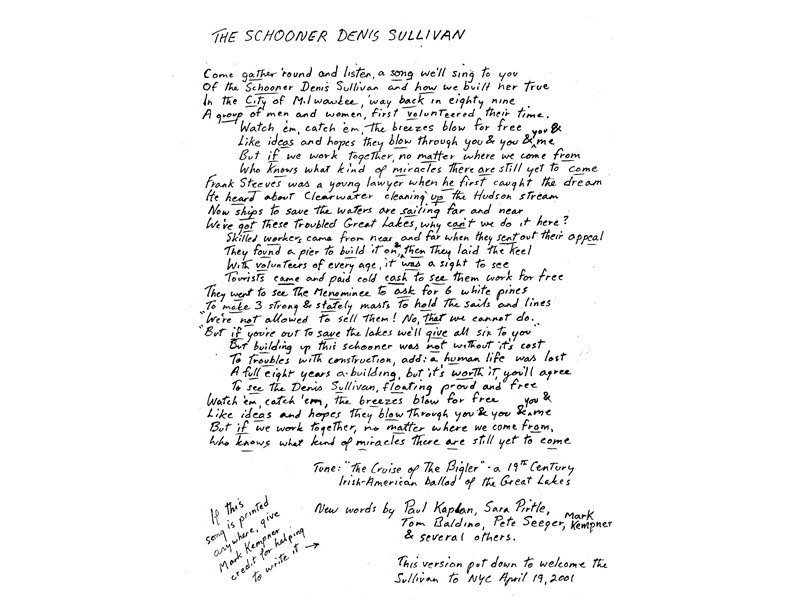 By now everyone knows that Discovery World has strong ties to groundbreaking musician Les Paul, but few remember Pete Seeger's link to that lakefront institution.
In 2001, Seeger – who passed away Jan. 27 at the age of 94 – wrote an ode to the S/V Denis Sullivan.
In a handwritten copy of the lyrics – reportedly in Seeger's own hand – the song, called "The Schooner Denis Sullivan," is credited to "Paul Kaplan, Sara Pirtle, Tom Baldino, Pete Seeger, Mark Kempner and several others."
"He wasn't really interested in credit, so he made sure that plenty of others were listed as contributors, as well," says Discovery World President and CEO Joel Brennan.
"I knew that he sent a few dollars to the Sullivan a few times over the years, but it was a welcome revelation that we will always have this connection to him. This is a pretty cool Milwaukee connection to legendary figure."
Long-time Discovery World staff member Jeff Phillips explained a bit of the backstory in an email.
"This is the song that Pete Seeger wrote for the Denis Sullivan on April, 19, 2001," Phillips writes. "The Sullivan had been heading back to Milwaukee after winter programming in Florida and Bahamas. He met us at the 79th Street Dock in New York City."
"Pete also came to visit in the late 1990s – along with (his wife) Toshi – and spent the day with us singing songs and encouraging the then-building of the Denis Sullivan. Pete had been involved with sloop Clearwater in Beacon, N.Y. We had used their model of on the water education to develop our LakeWatch program."
Milwaukee's own David HB Drake recorded the song for his CD, "A Schooner Songbag: Songs of the S/V Denis Sullivan." You can order the disc and hear a bit of the song here.
Facebook comments
Disclaimer: Please note that Facebook comments are posted through Facebook and cannot be approved, edited or declined by OnMilwaukee.com. The opinions expressed in Facebook comments do not necessarily reflect those of OnMilwaukee.com or its staff.
Recent Articles & Blogs by Bobby Tanzilo