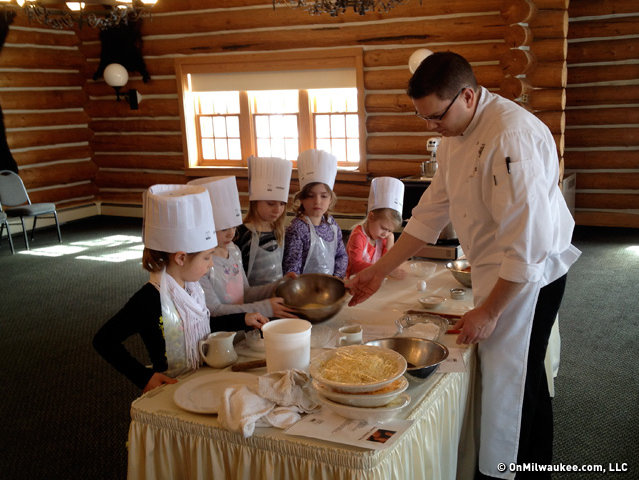 When my kids were little, I'd joke with them as they lay on the changing table.
"I'm changing your diapers now, so you'll change mine later," I'd say.
I thought of that when I told my son that I signed him up for a cooking class with Chef Paul Smitala so that he could start making dinner and give me a few nights off each week. He laughed at that one.
But, seriously, the 90-minute class, which Smitala holds in the banquet room at Blackwolf Run Restaurant in Kohler, where he runs the kitchen, teaches kids kitchen basics and, despite the fact that the students range in age from 6 to 9 years old, Smitala doesn't have them cutting corners.
Upcoming classes are Jan. 18, at noon (ages 10-13); Feb. 8, at noon (ages 10-13); and March 15, 10-11:30 a.m. (ages 6-9).
The classes are quite popular and the 20 slots typically fill up fast. So fast that there are waiting lists sometimes, too. At the class we attended (I just watched; parents don't take part), there were 26 kids, because of overflowing waiting lists, but there were plenty of chefs on hand and there were about six kids per chef.
They made cheesy fries, corn dogs and chocolate cream puffs. All were made from scratch, though the kids didn't stuff their own sausages or make the puff pastry, of course. That's probably another class.
But Smitala – who, of course, fired up some of his home-rigged power tool-fueled kitchen utensils, to the kids' delight – had them make their own cream filling, they cut out and baked the puffs, made the corn dog batter, seasoned and cooked the potatoes and returned them to the oven with cheese on top.
Smitala and his team were great with the kids. They were serious about the hot plates and sharp utensils, but they were friendly, personable and light-hearted with the young ones, too.
The kids worked hard and enjoyed the fruits of their labor. They learned them that they, too, can make delicious food with a bit of work.
It's a great lesson. Not only do kids learn to cook for themselves in the class, but they've now got the tools to cook with mom and dad – a great tradition for families. They also appreciate what it takes to bring food to their table at restaurants. And I'm especially glad that they learn it's worth putting in a little effort to make a great meal, rather than simply opening the freezer and firing up the microwave.
At $20 a kid, the classes are a steal.
Facebook comments
Disclaimer: Please note that Facebook comments are posted through Facebook and cannot be approved, edited or declined by OnMilwaukee.com. The opinions expressed in Facebook comments do not necessarily reflect those of OnMilwaukee.com or its staff.
Recent Articles & Blogs by Bobby Tanzilo