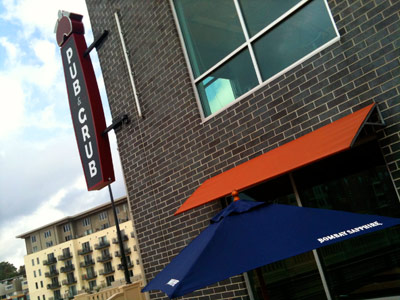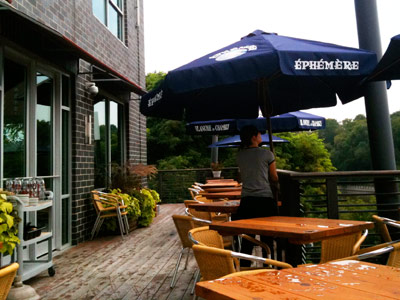 Andy Tarnoff and I sat ourselves down on the deck overlooking the Milwaukee River today for lunch at Stubby's Pub & Grub, 2060 N. Humboldt Ave.
This was my first visit to Stubby's -- owned by Brian Zarletti, who also owns Rustico and Zarletti --  which opened in July in the space that formerly housed Bayou.
Much like my first visit to Bayou, I was struck by the fact that the place was virtually empty. This can be a worrisome omen.
But, it wasn't in this case. At least not in terms of service or food.
We had two servers helping us and they were friendly and attentive without being pushy or lingering too much.
I ordered the shrimp po boy with sweet potato fries (you get a choice of side, from a list of about a half dozen, with sandwiches) and a beer (a tasty Great Lakes Elliott Ness Vienna-style lager, $5).
The shrimp po boy featured corn meal crusted shrimp with lettuce, mayo and tomatoes on a toasted garlic rubbed hoagie roll. The addition of the capers was great, although I was disappointed that the tomatoes looked fairly anemic. It is, after all, tomato season.
But the dish was satisfying and tasty and I was not disappointed, overall.
Andy had the pulled barbecue chicken with garlic mashed potatoes. He especially enjoyed the mildly tangy sauce.
There were a few more diners in the restaurant when we left than when we arrived, but not many. And that's too bad, because based on this first visit, Stubby's is a pretty good -- though not especially budget-conscious -- lunch option.
Talkbacks
pams3150 | Sept. 10, 2010 at 4:39 p.m. (report)
Recently dined there last Monday night. I was terrible!! Appetizers arrived cold, burgers were burnt to a crisp, service slow, not enough help, obviously no food checker on the line, bill adjusted after my complaint. I know it was Labor Day, but nobody was laboring at this place. I think the Zarletti's are spreading themselves too thin. I never have had luck at any of their restaurants. Very, very disappointed
tmw799 | Sept. 8, 2010 at 7:43 p.m. (report)
Have been there twice. Food was great. Atmosphere was great. On a Thursday evening, it was packed. I hope patrons keep going there.
Facebook comments
Disclaimer: Please note that Facebook comments are posted through Facebook and cannot be approved, edited or declined by OnMilwaukee.com. The opinions expressed in Facebook comments do not necessarily reflect those of OnMilwaukee.com or its staff.
Recent Articles & Blogs by Bobby Tanzilo