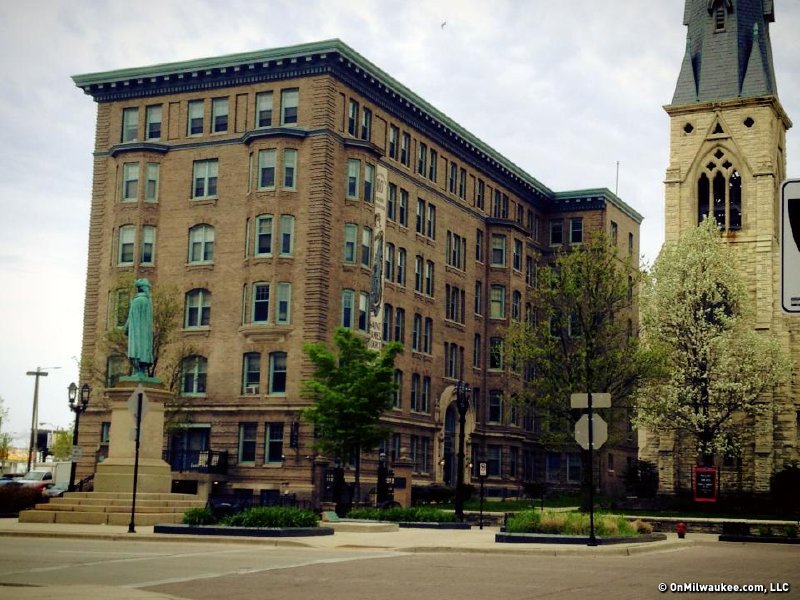 In researching Milwaukee history, I've come across numerous mentions of local figures having lived in this or that block of flats, almost always listed by building name, and only sometimes with an address added.
Downtown Milwaukee and the lower east side were full of small apartment buildings that were blocks of flats. And despite the fact that there were many, folks seemed to know them pretty well. After all, what point is there in noting that so and so moved to Milwaukee and took a flat at, say, The Aurora, if no one knew where The Aurora was located and, most likely, what sort of status moving into The Aurora connoted?
Though entire blocks of apartment buildings have long since vanished Downtown – including some storied ones like The Norman (on Wisconsin Avenue between 6th and 7th) – others remain.
A few that immediately spring to mind are Ferry & Clas' 1894 Badger Apartments, 1103 N. Water St. (home to Water Street Brewery); The Van Buren Apartments, 1104 N. Van Buren St. (built in 1917, architect: Walter Newmann); The Vermont, 610 E. Mason St. (1898); Leenhouts and Guthrie's 1916 Blackstone on Juneau and Van Buren; The Beaumont (1900), 1227 N. Milwaukee St.; C. F. Ringer's 1894 Trenkamp Flats on Milwaukee and Knapp Streets; Crane and Barkhausen's Comstock Apartments, 828 N. Milwaukee St.
And there are others, to be sure.
One of my favorites is The Everett, 815 E. Knapp St., a colonial revival gem that is now four condos, erected in 1900. In addition to its handsome bays, The Everett has a great fan-like scallop shell detail above the entrance.
Another is the St. James Court Apartments, 831 W. Wisconsin Ave., built in 1903. It was designed by Ferry & Clas, whose 1898 Central Library sits directly across the boulevarded segment of Wisconsin Avenue. Though I've never been inside, I hear it's loaded with stained glass, great woodwork, a birdcage elevator and other period details.
I'm a big fan of the building's entrance which faces St. James Episcopal Church (1867) to the west, rather than to the avenue, creating a little courtyard.
These flats remind us of Milwaukee's urbane character at the dawn of the 20th century and offer a glimpse into what the city was like a century ago.
Facebook comments
Disclaimer: Please note that Facebook comments are posted through Facebook and cannot be approved, edited or declined by OnMilwaukee.com. The opinions expressed in Facebook comments do not necessarily reflect those of OnMilwaukee.com or its staff.
Recent Articles & Blogs by Bobby Tanzilo