St. Rita's Church, 1601 N. Cass St., will be razed and replaced with a new church and a six-story independent living complex for seniors, the church will announce today at a press conference with Mayor Tom Barrett and Ald. Nik Kovac.
The current church, built in 1936, will be replaced with a new building based on the design of the old Blessed Virgin of Pompeii Church – colloquially known by Milwaukee's Italian-American community as the "Little Pink Church" – that once stood on Jackson Street in the Third Ward.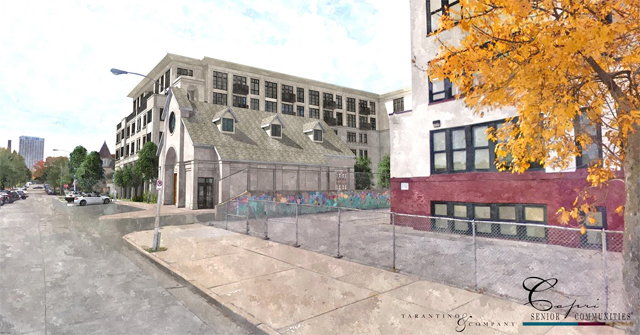 The new building will preserve art (including frescoes) and spiritual objects not only from the current St. Rita Church building, but also from the Blessed Virgin of Pompeii, which was built in 1904 and demolished for the I-794 freeway in 1967.
St. Rita's was founded in 1925 as a missionary outpost of the Blessed Virgin of Pompeii.
A press release for the news conference says the church will, "serve as Italian community's spiritual center." Congregation members will work with a liturgical architect to design the interior of the church.
And, yes, it appears from renderings that the new church will have a pink exterior.
The residential senior living building will provide assisted living, memory care and concierge services to its residents. In addition to 29 independent living apartments, 48 assisted living units and 26 memory care units, the building – on the northwest corner of Cass and Pleasant Streets, two blocks south of Brady – will include 2,800 square feet of street-level retail space, too.
The development includes 44 enclosed parking spaces and indoor and outdoor bike parking facilities.
The parish is selling the site to Tarantino & Co., which will tear down the church, convent and vacant school to build the $20 million development, for $1. Tarantino will build the new church and sell it back to the congregation for $1.
Also taking part in today's press conference are St. Rita's pastor Father Tim Kitzke, Italian Community Cente…
Read more...