I don't know about you, but the tastes of warmth we've had, albeit brief, have me really itching for the dog days of summer. During the winter, I've learned to just deal and embrace. Really, it is all you can do!
But now, I'm just ready for warmer weather, and here are seven things I can't wait to do during our Milwaukee summer. What are you looking forward to? Chime in below!
 1. Ugly's Pub rooftop patio
Although I have written about them in the past here, Ugly's Pub is a relative newcomer to Downtown. The patio I'm peeking out at in the picture below could become one of my favorite of summer. Please, weather gods, let there be a warm night to sit back and enjoy a cocktail here soon.
 2. Dark 'n' Stormy nights (or days)
The Dark 'n' Stormy became one of my favorite cocktails last summer. I became slightly obsessed with trying the dark rum, ginger beer and lime cocktail everywhere I could. My favorite was at Nessun Dorma in Riverwest, which is pictured below. Got one to recommend? Chime in below!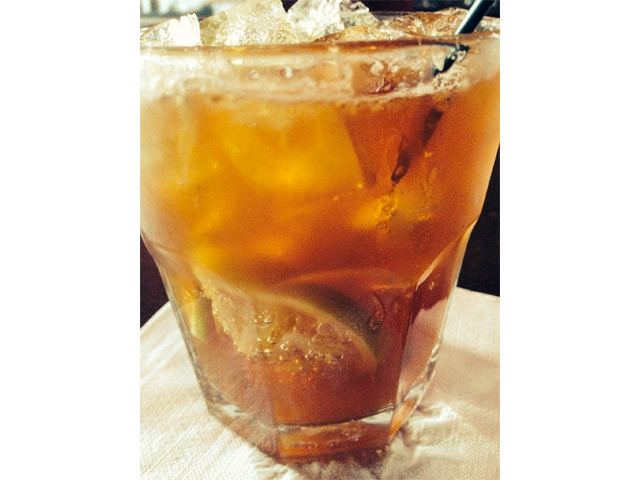 3. Picnic dinners at Glorioso's
Oh, summer nights on Brady Street, how I miss you. I can't wait to walk down to Glorioso's and pick up the perfect light dinner and eat it on the street and watch Milwaukee walk by. 
4. Von Trier
Many a summer night have I spent in the Von Trier beer garden patio overlooking North Avenue on the East Side. Yes, I'm a bit of a sally with my Hoegaarden beer choice here, don't judge. If you are there early enough, and know enough to ask, you can enjoy some pretzel rods and cheese to round out your patio visit. 
5. Walker's Point Food Crawl
The Walker's Point Food Crawl will be held May 31, so you should write it on your calendars now. Now in its third year, this ever-growing part of town has become a food lover's heaven and the food crawl is a perfect way to try all the options! I'm a coordinator and planner for this event, so I am a bit biased, but with good reason, because it is fantastic. Stay tuned for details in the upcoming weeks. Get your tickets now! 
6. Summerfestin'
This year's Summerfest schedule brings acts such as Outkast, Ray LaMontagne and Girl Talk. Count. Me. In. I think the schedule is one the best I've seen in a while and it really can't get here soon enough. 
7. Hit some balls
Although I definitely don't play as well as I would like to (or as well as my boyfriend would like me to), I can't wait to get out on a golf course (the one below is Western Lakes, near Pewaukee). Some of my favorite days of summer are filled with sun, lost golf balls and frustration but I still can't wait to do it all over again. Fore!
Facebook comments
Disclaimer: Please note that Facebook comments are posted through Facebook and cannot be approved, edited or declined by OnMilwaukee.com. The opinions expressed in Facebook comments do not necessarily reflect those of OnMilwaukee.com or its staff.
Recent Articles & Blogs by Carolynn Buser