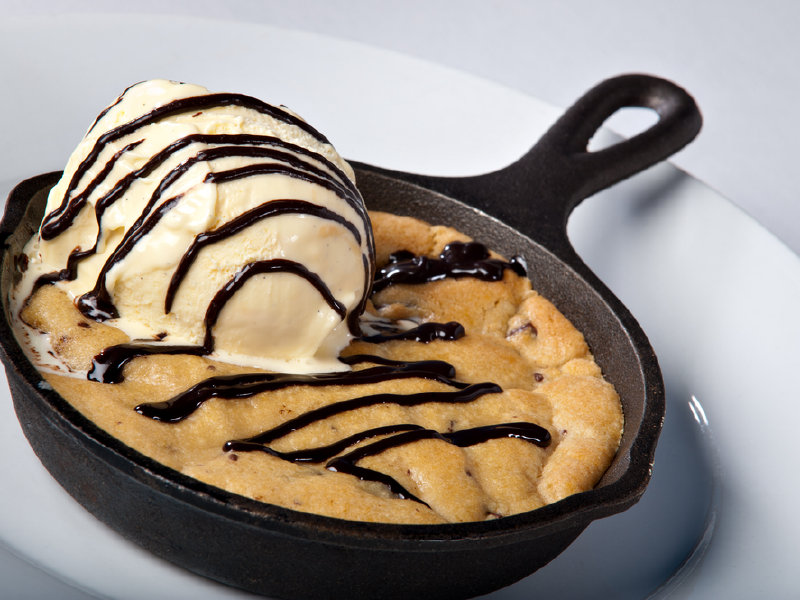 I missed the memo earlier today, but trust me, I am now well aware it is National Chocolate Chip Cookie Day. 
Learning of it being a day of such importance made me wonder: Where, oh where, is the best chocolate chip skillet in Milwaukee? I've been on the hunt for it, but just haven't found it here. Yet. 
I've had an amazing one south of the border in that nearby city of Chicago, at 404 Wine Bar. I wish I had a photo of it, as I should have one of this dessert masterpiece, but the truth is once it is front of me, I forget everything else and neglect to get a photo. My sisters and I have enjoyed the mouthwatering dish many times, and every time we do, I am hard-pressed to think of one in Milwaukee that competes with it. 
The chocolate chip cookie skillet has to have a few things done just right to make it compete with the best of the best. It needs the perfect cookie (buttery goodness) to chocolate proportions. It must be done (brown on top) but not done. It has to be gooey goodness that is soft and almost falls off your spoon. It should have ice cream on top that is gently melting into your piping hot cookie skillet. A drizzle of melted chocolate on top is bonus points.
Thankfully, I just had a delicious chocolate chip from Pita Brothers, or I would be drooling all over my desk.
Milwaukee, I am willing to take one for the team and go out and find the best chocolate chip skillet dessert in our area. 
Have you had one that is the heaven that I described above? I want to hear about it – and then I will go try it and report back. After all, someone has to take on this issue here in Milwaukee. It may as well be me! 
Facebook comments
Disclaimer: Please note that Facebook comments are posted through Facebook and cannot be approved, edited or declined by OnMilwaukee.com. The opinions expressed in Facebook comments do not necessarily reflect those of OnMilwaukee.com or its staff.
Recent Articles & Blogs by Carolynn Buser