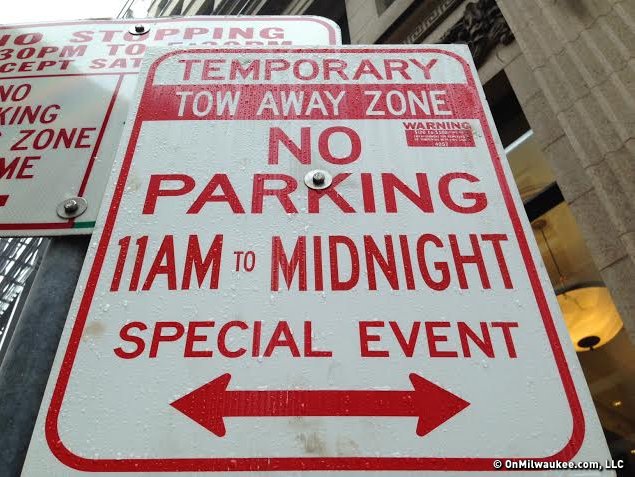 This past Sunday, my sister awoke later than usual, around 7:45 a.m., and wandered into the kitchen to get a cup of morning joe. She happened to look out the window as a tow-truck was on our block and in front of her car. It wasn't attached by chains, the ramp on the truck wasn't tilted and the driver had not yet attached to her vehicle. 
Damn it, she thought. You see, like plenty of those living on the Locust Street Music & Art Festival Beer Run route, she was supposed to move her car by 7 a.m.. Indeed, she was illegally parked -- and when she ran down to ask him to please not tow her -- she will move the car immediately, she was told "don't do this today, don't do this" by the driver of the tow truck. 
If only she'd had more coffee in her system, she may have brought her keys down with her and just driven away immediately. Her first thought was "crap, I need to get him to wait so I can move it." She certainly wasn't the only one to get towed on the beer run route that morning in Riverwest, and she absolutely should have been ticketed. 
My question is -- if she showed up before the car was towed, what is Department of Public Works policy on letting her move the car and avoiding the tow?
I reached out to DPW to see what its take is on similar situations and Sandy Rusch Walton, communications manager for the City of Milwaukee Department of Public Works told me, "If the vehicle is being towed for parking citations and the owner arrives on the scene prior to the start of the towing process the owner is allowed to drive the vehicle away."
If this is the policy of the city, maybe tow truck drivers (they are not city employees; they are contractors) should know and abide by the DPW policies. This was not what happened in my sister's case.
If you are illegally parked, you should be ticketed and pay your fine. But if you show up before they've started the process of towing your car, you should be able to move it. That's the DPW policy.
This summer is sure to be full of street closings for block parties, festivals and picnics that make our city amazing -- but be sure to park legally. Because, if you don't, and a tow truck driver is on the scene, you may or may not be allowed to drive away.
Facebook comments
Disclaimer: Please note that Facebook comments are posted through Facebook and cannot be approved, edited or declined by OnMilwaukee.com. The opinions expressed in Facebook comments do not necessarily reflect those of OnMilwaukee.com or its staff.
Recent Articles & Blogs by Carolynn Buser