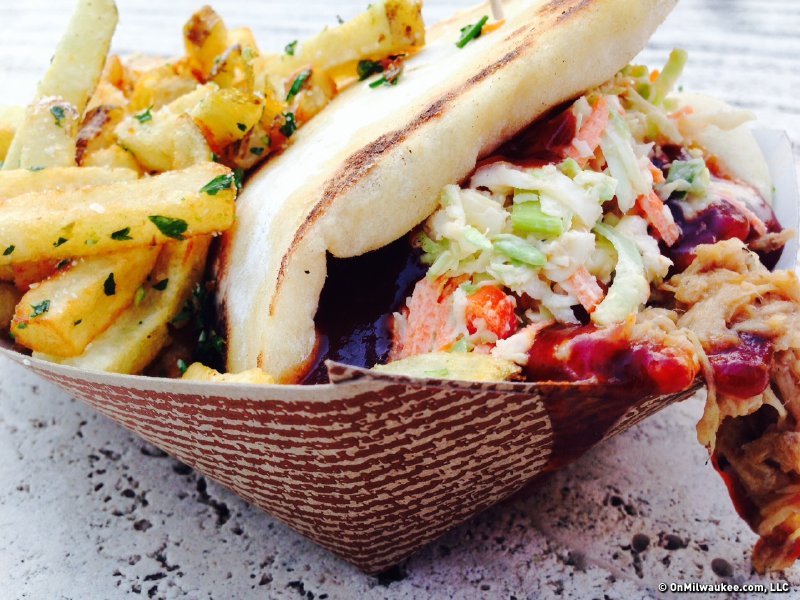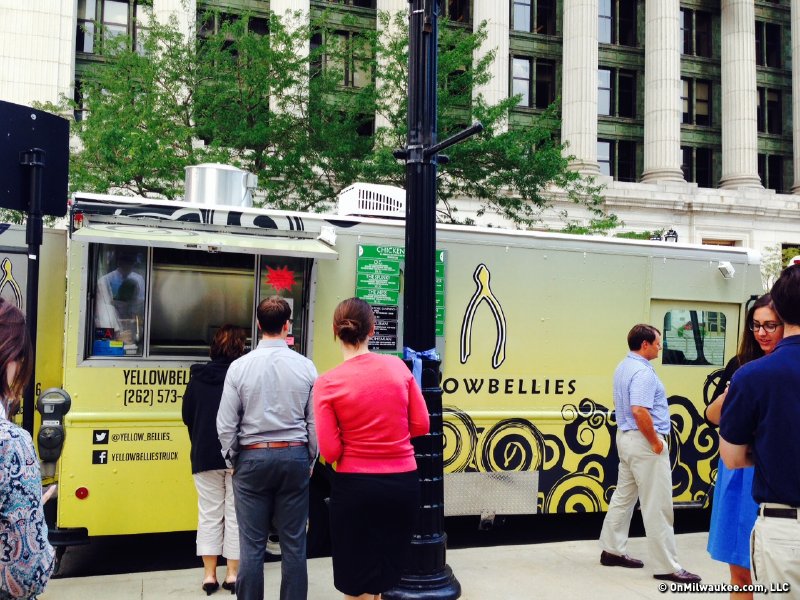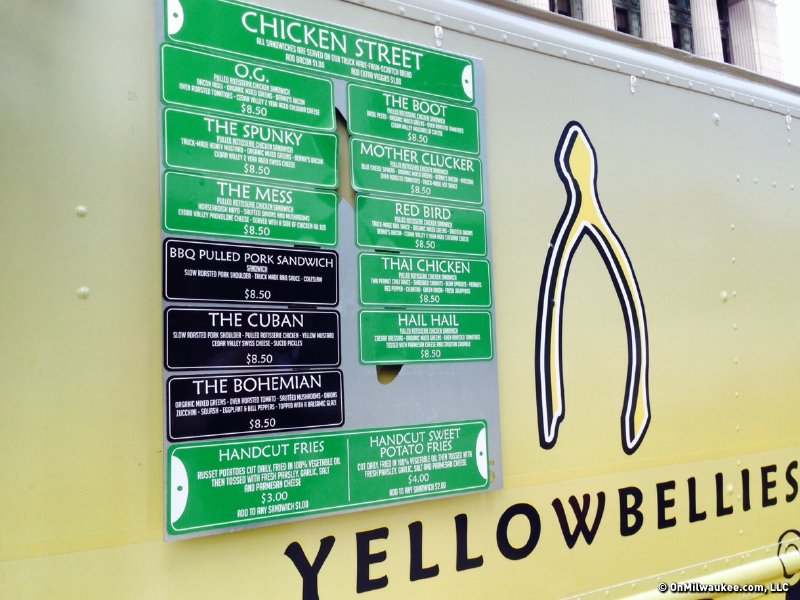 Wait up, summer's not over yet. You can tell because the streets are still lined with the ever-growing food truck culture in Milwaukee. It's Food Truck Week here at OnMilwaukee.com and all week long we're stopping at some of Brew City's best restaurants on wheels in search of the most interesting dishes on offer.
I'm huge fan of rotisserie -- so when I heard that YellowBellies focused on rotisserie chicken I knew that I had to try it. You can't miss the big yellow truck -- with a big wishbone on the side -- that is parked at different locations daily. 
After perusing my options I actually decided to try a Louie's Demise BBQ pulled pork sandwich -- one of the specials of the day -- which funnily enough was not a rotisserie sandwich. But, the thing with a special is you never know when they will have it again. So when in doubt, I typically order the special. 
I was more than pleased that I did order the pulled pork as it was delicious and huge! The bread is made daily in the truck and I would describe it as a sort of thicker softer pita. I loved it so much I was sopping up my BBQ sauce with it, too. The pork was a shoulder braised in Louie's Demise Beer and topped with truck made slaw and BBQ sauce. The meat itself was tender as can be and paired perfectly with the slaw and sauce.
For sides, YellowBellies has both hand cut fries (russet) and sweet potato fries to choose from. I chose the hand cut which are cut daily, fried in 100 percent vegetable oil and then tossed with fresh parsley, garlic, salt and parmesan cheese. No regrets on picking the hand cut fries on this part but I will be sure to try the sweet potato ones next time.
Michael and Siobhan Mesenbourg own and run the food truck and both have been in the food industry for the past 15 years -- that shows in both their cooking as well as the expedited service they give from the truck. They originally did not want a picture of a chicken on the side of the truck and came up with the name YellowBellies -- in hopes to be a little clever without spelling out the word chicken. Get it? 
I'll be sure to stop back and try a rotisserie sandwich from them soon. You should, too! 
Facebook comments
Disclaimer: Please note that Facebook comments are posted through Facebook and cannot be approved, edited or declined by OnMilwaukee.com. The opinions expressed in Facebook comments do not necessarily reflect those of OnMilwaukee.com or its staff.
Recent Articles & Blogs by Carolynn Buser