Milwaukee, will we get a LYFT off here soon? I hope so, and all signs point to yes. Last night I was targeted an ad on Facebook that LYFT was looking for drivers here in Milwaukee. Have you seen it, too?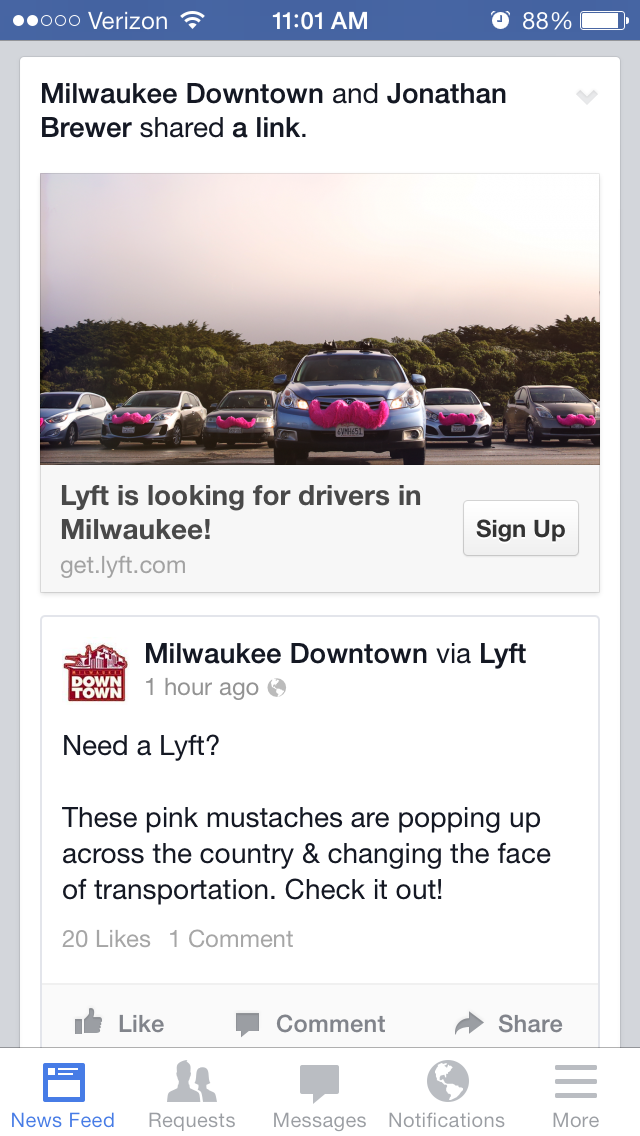 We reached out to confirm they were headed to town, and we can indeed expect them here soon. HURRAY! 
At a time when the city is upping the number of taxi permits by 100, Uber has already launched its UberBLACK service here, and LYFT is coming soon. So what are the differences? Both are car services that can get you from one place to another. One has a pink mustache (I cannot wait to see these cruising around Milwaukee) and the other is sleek and black (and, in other cities, yellow). Is that the only difference?
LYFT employs regular people who become your professional driver in their own car. You can make up to $20 an hour driving your own car, and you can choose your own hours. Uber has a staff of professional drivers to make sure you get where you need to be. And they do it very very well. I think I'll use them both, way more than I call for a cab. That is, if the city doesn't make these new options not available for us. And they are indeed, trying to fight it.
I look at the addition of services such as Uber and LYFT as a sign that we are a city that is trying to evolve and change with times. Cabs aren't always easy to get, and honestly, they can be a pain to order and actually get one, though the app Taxi Magic makes it a lot easier. 
Oh, and did I mention the mustaches? How can that not bring a smile to your face? Hope to see them cruising around soon! 
Talkbacks
AndrewJ | Feb. 28, 2014 at 8:51 a.m. (report)
The more car services the merrier. Although there will likely need to be some state legislation involved before the doors can fly wide open. Check out WI Legislature Licensing Powers: 349.24. A simple change and there would be no haranguing from greedy Alderman, City Council or Board members on licensing issues. And a change would not be unheard of with our current state legislature. See: Pedal Tavern. They are business friendly, and will work with people on stuff like this. Another thing the Liberal voters of Milwaukee should remember when they cast state and local ballots. Your elected officials downtown are the ones that prevent good stuff like this from happening in the city. They refuse to let a new business come in, especially one that will boom, unless they get a taste of the action. Shameful.
Facebook comments
Disclaimer: Please note that Facebook comments are posted through Facebook and cannot be approved, edited or declined by OnMilwaukee.com. The opinions expressed in Facebook comments do not necessarily reflect those of OnMilwaukee.com or its staff.
Recent Articles & Blogs by Carolynn Buser