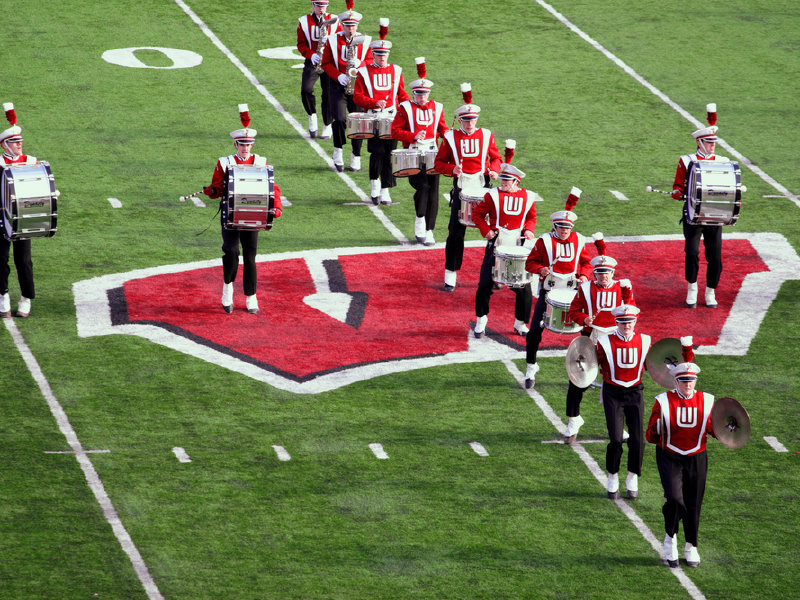 You know that awkward moment when you run into someone at the grocery store and you know you've met them but can't remember their name?
That never happens to Mike Leckrone.
Leckrone has been at the helm of the University of Wisconsin-Madison Marching Band since 1969. That's 43 years – and a lot of students to conduct. But Leckrone is famous for remembering the names of every student or player who's ever been a part of the marching band.
Leckrone and the UW Marching Band will be at Nicolet High School on Sunday, March 10 for the "Band Together" fundraiser to benefit Nicolet and its feeder schools. There will be lunch and a performance by the marching band. Tickets are $10. For more information, visit Nicolet's website.
I caught up with the veteran composer and director to discuss his long tenure at Madison and what has changed since the early years.
OnMilwaukee.com: Come on. Is it really true that you can remember the name of every player you've ever taught?
Mike Leckrone: On good days! (laughs) You know, when I'm alert. No, I do remember, I'm sure. (I test him by asking him to identify some pretty obscure players that I'm acquainted with. He passes with flying colors.)
OMC: How has the marching band program changed since 1969?
ML: Well, of course a lot of things have changed in society, and I think one of the big things about the program is it's grown immeasurably. I mean, my first year we had 96 people in the entire band and this year we took, like, 304 people to the Rose Bowl. That's been the biggest change – just the number, and of course the amount of performances we do expanded.
I was hired basically to just do the football games, and that expanded into basketball and hockey and now we do a lot of programs all over the state. We do a big three-night show in the spring at the Kohl Center. It's expanded just in breadth, I think, if nothing else, and in numbers in terms of the students.
OMC: Would you say there's more interest in the marching band performances now than when you were hired?
ML: Well, yeah, I mean, for a lot of reasons. I think interest in the football program is much higher than it was at that point. When I first came football team had not won in, well, it was like 24 games in a row. So there wasn't a huge interest in the football program and that sort of filters down into what the marching band is doing. I mean, one kind of parallels the other.
And as I've indicated, we just weren't as involved with as many different things, we didn't have as many different appearances as we do now, so I think yeah, there's definitely a lot more interest in what we're doing. I'd like to think we created some of that.
OMC: What was your strategy for creating more interest in the band?
ML: Well, we tried to really emphasize the entertainment aspect of it. I think the band before had been a little bit on the conservative side. It had been more of a military type unit and one of the things that I've tried to do ever since I came is to step up the entertainment value so that when people come to a game or when they come to one of our events they feel like they've really been entertained and the band is an important part of it.
We start early on doing a lot of audience participation things to sort of break down that wall between the audience and the band, so that the audience is participating along with us. We just try to do a lot of fun things and, as I've indicated, just make ourselves apparent in as many different places as we possibly could.
OMC: Do you still go to every appearance?
ML: Not every one anymore because that's really – one of the reasons I can't do that is because many times they are conflicting. We've spread out so many that I make all football games, I make most of the hockey games and all of that. It's a pretty heavy schedule for the performers of the band. Now, the band is not always the same people - they take turns doing so many events too.
OMC: Do plan on staying on for another 40 years?
ML: (laughs) Yeah, I'll try another 40. Forty-four years is a long time in one city and I feel like I know the town and I'm really comfortable here. I wish the winters would get shorter and shorter, but you can't do anything about that.
Talkbacks
olderwiser | March 7, 2013 at 12:18 p.m. (report)
As a fan, I have followed Badger sports and the UW marching band for a long long time. The performances at half-time are always the same. They seem to alternate between a tribute to Broadway or a tribute to Motown. I used to stay in the stands to watch each half-time performance, but I don't anymore. I personally feel they need to add some new and youthful musical numbers and marching choreography to this band. But that won't happen as long as Michael Leckrone is in charge. No disrespect, but let's move into the twenty first century, please.

Facebook comments
Disclaimer: Please note that Facebook comments are posted through Facebook and cannot be approved, edited or declined by OnMilwaukee.com. The opinions expressed in Facebook comments do not necessarily reflect those of OnMilwaukee.com or its staff.
Recent Articles & Blogs by Colleen Jurkiewicz