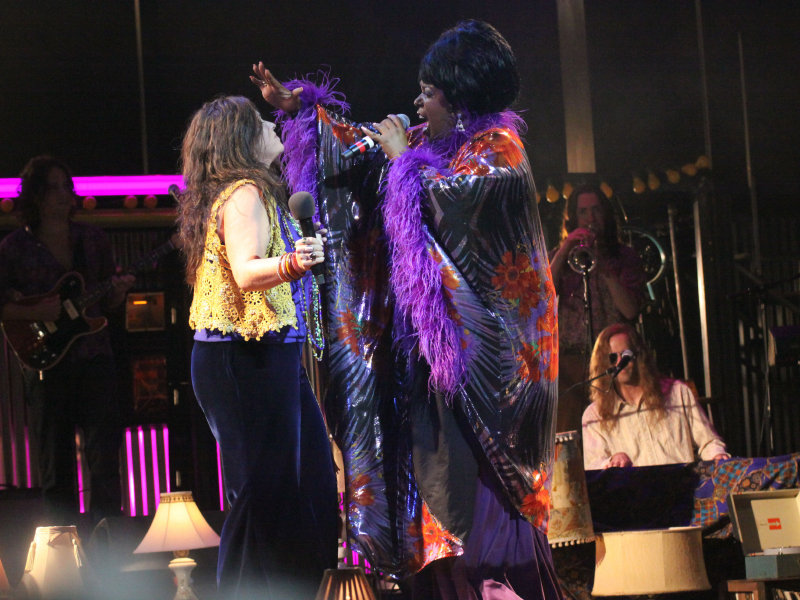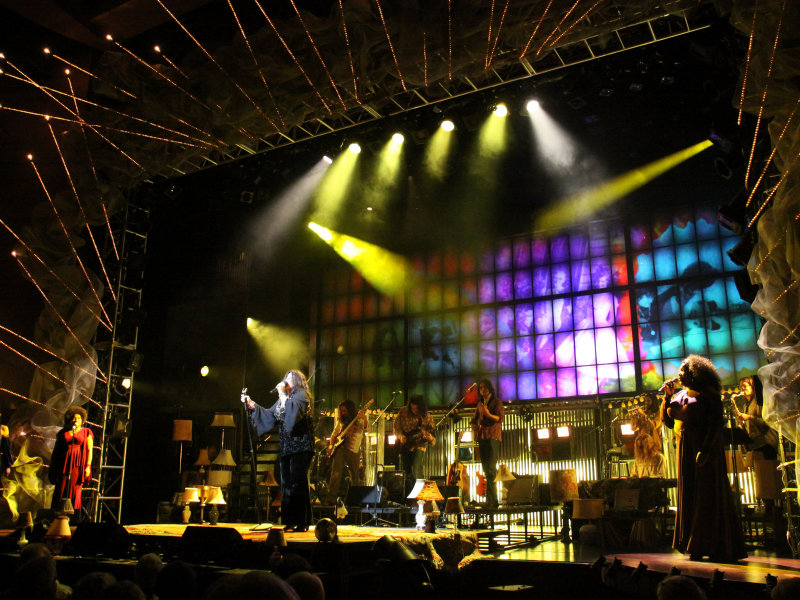 I would imagine that it's a pretty rare thing to be able to bring down a house 43 years after your death.
But for Janis Joplin, it's no big deal.
She definitely brought down the house, rafters and all, at the Quadracci Powerhouse last night. The Milwaukee premier of "One Night With Janis Joplin" was not only a dynamic concert experience but a compelling theatrical production as well. If you're a Janis fan or just a lover of music in general, you need to see this show.
First of all, when I say that Janis Joplin brought down the house, I mean just that: Janis Joplin brought down the house. Sure, the main singer of the evening was the fantastic Mary Bridget Davies, who has starred as the bluesy diva in national tours of "Love, Janis" before bringing her back to life onstage in this production. But here's the thing: Davies is so good at her job that you don't get an imitation.
This ain't no tribute band. She's not just a great singer. She's an amazing actress who seems to literally channel the warmth, humor and vocal-chord-straining feats of the late Ms. Joplin as she performed her greatest hits and also gave touching monologues as Janis in between numbers.
Davies is almost outshone by the sheer stage presence and vocal capacity of Sabrina Elayne Carten, a talented and nationally-known blues singer who appears in this show to represent the musical figures who inspired Joplin. Carten effortlessly channeled such towering figures as Odetta, Bessie Smith and most memorably Aretha Franklin in an unbelievable rendition of "Spirit in the Dark."
Carten can hold a note like no one I've ever seen, and this surreal Queen of Soul/Queen of Rock n' Roll duet at the end of the first act literally had the audience dancing in the aisles.
This was, after all, an audience who came to party. Bedecked with tie-dyed shirts, peace signs, love beads, glow sticks and flared pants, these folks were ready to groove. People would literally not stay in their seats. They kept jumping up, waving their hands, dancing, shouting – it was like a charismatic rock n' roll prayer service.
The staging was great, and I can't believe that it was this good in other venues utilized by the show across the country; the Quadracci Powerhouse is just perfectly set up for a production like this. It's a large theater, but the wrap-around seats give the space the intimacy that this show needed. This wasn't an arena show. The stage was strewn with oriental rugs, dim lamps, album covers, knick-knacks and even a neon Pabst sign (a nice touch appreciated by the audience). It felt like Janis had invited us all over for a house party.
As the evening went on, Davies' behavior in between songs became noticeably more twitchy and unsure, in an effective nod to the loneliness and drug addiction that ended Joplin's life and career too soon. That's what made this a compelling dramatic performance on Davies' part – the sheer emotion with which she infused renditions of "Ball and Chain" "Little Girl Blue" and "I'm Gonna Rock My Way to Heaven"  was really moving. "The blues is just a bad woman feelin' good," she told the crowd.
The highest compliment I can give this production is that I would imagine it would be something that Janis Joplin would buy tickets to. From their enthusiastic interactions with Davies throughout the show, it was clear that most of the audience members were already Joplin fans ("You're gonna make me cry, Janis!" one woman yelled towards the end of the second act). But any fan of the blues, soul, or good music in general would love this show.
Because even all these years later, Janis Joplin is still one bad mother.
"One Night With Janis Joplin" runs through June 2 at the Quadracci Powerhouse, 108 E. Wells St. For more information, visit milwaukeerep.com.
Facebook comments
Disclaimer: Please note that Facebook comments are posted through Facebook and cannot be approved, edited or declined by OnMilwaukee.com. The opinions expressed in Facebook comments do not necessarily reflect those of OnMilwaukee.com or its staff.
Recent Articles & Blogs by Colleen Jurkiewicz