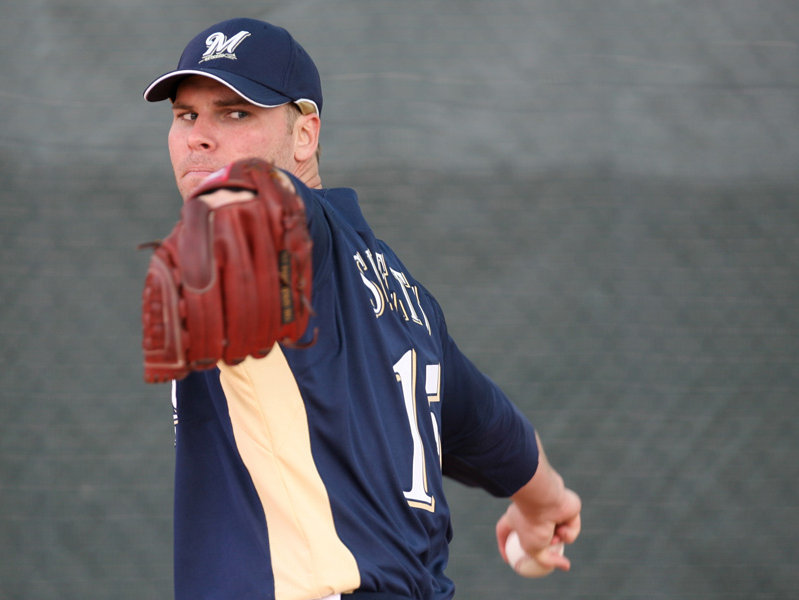 An era of success began in the middle of epic failure.
The bad baseball played by the Milwaukee Brewers from the late 1990s through the mid 2000s was the cornerstone upon which the team re-built a winner. By finishing near the bottom of the standings year after year, the Brewers were awarded multiple appearances near the top of the First-Year Player Draft. That is when the franchise stockpiled the promising young talent which would lead to success not achieved in a generation.
During that era, no team advanced top prospects from their farm system to the major leagues like the Brewers:
Ben Sheets, drafted in the 1st round in 1999, led the Brewers pitching staff for eight years from 2001-2008.
Corey Hart, drafted in the 11th round in 2000, had one plate appearance in Milwaukee in 2004 and was playing full-time by 2007.
J.J. Hardy, drafted in the 2nd round in 2001, arrived in big leagues in 2005 and played for the Crew for five years.
Prince Fielder, drafted in the 1st round in 2002, played in a handful of games for the Brewers in 2005, then played in nearly every game for which the team took the field from 2006-11.
Rickie Weeks, drafted in the 1st round in 2003, had a cup of coffee in Milwaukee before that year's season was over, and then arrived to stay in 2005.
Yovani Gallardo, drafted in the 2nd round in 2004, has been a regular at Miller Park since 2007.
Ryan Braun, drafted in the 1st round in 2005, has been the Brewers best player since he arrived in 2007.
These seven players led the Brewers renaissance. Even though a couple were no longer with the organization when it finally happened, each played a role in ending a 25-year playoff drought when the Brewers made the post-season in 2008 and 2011.
The sun also sets
Unfortunately, the optimism so common during the era in which these players were drafted, developed, arrived and succeeded in Milwaukee has been fading recently.
In 2013, the fade became a full-fledged disappearing act.
Of course, S…
Read more...