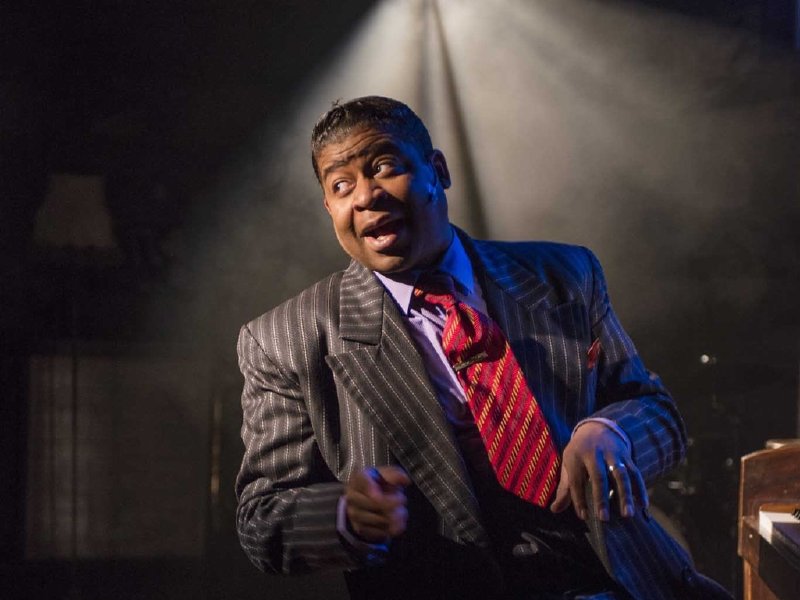 Years ago, I watched a PBS documentary about Thelonious Monk, who along with Dave Brubeck and Duke Ellington, are piano giants in the world of jazz. Monk was asked for his feelings about the development of jazz, from its earliest roots to what he was playing at the time.
"It comes from everywhere, and it's music for music makers," he said. "If it wasn't for Fats, who knows what I'd be doing now."
The Fats he was talking about was Thomas "Fats" Waller, the father of stride and the star of "Ain't Misbehavin'," the wonderful revue that opened Sunday night and runs through May 18 at the Milwaukee Rep's Stackner Cabaret.
The revue features about 30 songs that Waller either wrote or performed during his brief career before he died at the age of 39 from a variety of health issues, most of which came from the overwhelming gusto with which he lived his life.
It's impossible to overstate the importance of Waller to the American musical journey. With the blues bringing sorrow and sex at the turn of the century, Waller came along with an upbeat piano style that had tremendous non-challenging appeal, especially to white audiences.
"Ain't Misbehavin'," which won a Tony in 1978 for Best Musical, is a testimony to the period of peace between the two world wars and the explosive pursuit of fun in America.
And when it comes to fun, Fats Waller helped provide a lot of it. Most of his songs – called swing by some and stride style by others – were bouncy with clever lyrics. He collaborated with a number of lyricists, perhaps most famously with his Harlem friend and poet Andy Razaf.
The show would not be possible without the performances from five amazing singers and musicians. Britney Coleman, Christopher James Culberson, Kenney M. Green, Bethany Thomas and Erin Willis capture the spirit of Waller and the times with incredible musical skill.
They have a lot to work with. The title track, which Waller himself performed in the movie "Stormy Weather" just months before he died, sets the pace with the familiarity of a warm coat during a harsh winter.
"I know for certain
the one I love.
I'm through with flirtin'
It's just you I'm thinkin' of.
Ain't misbehavin'
I'm savin' my love for you.
That's the kind of feel good music and cheery optimism that marked Waller's music and dominated this show. Nothing was too emotionally wrenching or even emotionally engaging.
But just when I thought the entire evening was going to be nothing but seashells and balloons, along came a show stopper.
Thomas and Green, who was Waller for the night, teamed up for a glorious rendition of "Jitterbug Waltz." The song (here's a great version of the song performed by Miles Davis and Michel Legrand) tells the story of a pair of dancers, very late at night after the band has stopped playing. Even though the two lovers are exhausted, they still find romance in the waltz.
The performance drips with love and longing, and was a sharp departure from the joyous romp the audience had been through already. 
When Culberson sauntered to the middle of the stage and lit a joint, the crowd got wrapped up in "The Viper's Drag," a Waller slam at government efforts to go after musicians who used marijuana. Culberson has a genial air, and he was entrancing with a song that helped attract white audiences to black music and culture.
The most dramatic moment of the show came with a wonderful song, "Black and Blue," written by Waller and Razaf. The number (performed here by the great Louis Armstrong in Berlin in 1965) is heart-wrenching, wondering why things were the way they were for black people.
Cold empty bed...springs hurt my head
Feels like ole ned...wished i was dead
What did I do...to be so black and blue
Even the mouse...ran from my house
They laugh at you...and all that you do
What did I do...to be so black and blue
I'm white...inside...but, that don't help my case
That's life...can't hide...what is in my face
How would it end...ain't got a friend
My only sin...is in my skin
What did I do...to be so black and blue
The cast Sunday night gathered in the center of the stage and sang much of this song a cappella. It was clearly the most moving moment of the night.
Overall, "Ain't Misbehavin'" doesn't pack a massive emotional wallop, but like jazz itself, it's got a strong intellectual appeal and some of the brightest, cleverest songs you'll ever hear.
Facebook comments
Disclaimer: Please note that Facebook comments are posted through Facebook and cannot be approved, edited or declined by OnMilwaukee.com. The opinions expressed in Facebook comments do not necessarily reflect those of OnMilwaukee.com or its staff.
Recent Articles & Blogs by Dave Begel