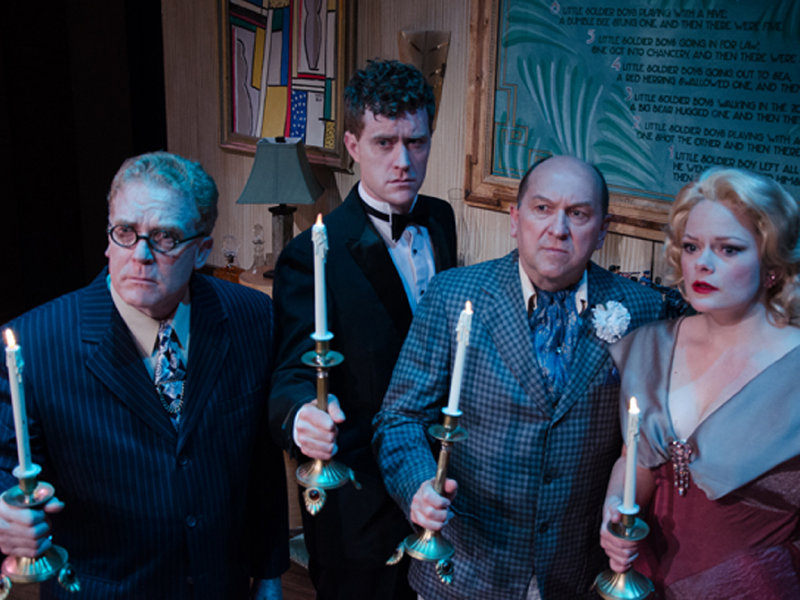 One of the best things that can happen in the theater is when a everyone involved in a production breathes new life into something that has been around seemingly forever.
Across nearly 70 years, the Agatha Christie play "And Then There Were None" has become one of those old chestnuts, performed by high school and college drama clubs throughout the world. To say that it's a tired play is a massive understatement.
But a sparkling new production that opened at The Peninsula Players Wednesday night and runs through July 27 proves that even the oldest of chestnuts can be reborn if all the pieces fit. And oh, how they fit in this production.
Under the direction of Linda Fortunato and her cast of 11 actors, the play came alive, eventually grabbing an audience of more than 400 people by their collective throats and not letting go until the final shot was fired and the good guys won.
The play is vintage Christie. You spend the first part of her story getting to know the people – in this case, eight people invited to a dinner party on a lonely island, along with the butler and the cook. If you are counting, that makes ten.
The very first mystery is when you wonder where the host and hostess are. Nowhere to be seen and then, we are off to the races. The plot of this mystery is a familiar one. Ten people are invited to dinner at a mansion on an island, isolated from the rest of the world. Eventually, they find that each of the ten has been involved in the death of another person.
Soon, as they say, the plot thickens. One by one, the guests each meet a mysterious death. Before too long, we are getting down to brass tacks, and there aren't that many people left. Nobody can figure out who the mastermind is behind this plot to wreak revenge on the ten criminals who have escaped justice for so long
The language and the plot devices are nothing new to anyone who has read Christie or seen her plays. But this production is just a marvelous example of all the pieces fitting together with perfection.
The first thing is the set, a marvelous drawing room designed by Jack Magaw. It is not easy to create a space for ten people to mill about, but his set is a great setting for the dramatics that soon follow the curtain.
The costumes by Karin Simonson Kopischke give extra body to each character. These people are wearing clothes, not costumes, and that's a rare achievement for a designer.
The cast of actors is splendidly professional. The mark of a great theater troupe is when no single actor outshines the others. It is a special credit to Fortunato for making all of these talented people work so very well together.
Live theater brings many joys and occasional heartbreak, and in this one, the joys are immense. Peninsula Players draw their audience from all over the country and fully 85 percent of the people who come to see them are from somewhere other than Door County.
If it's a good time in a great setting with a wonderful production you look for during the summer months, this would be an outstanding choice.
Facebook comments
Disclaimer: Please note that Facebook comments are posted through Facebook and cannot be approved, edited or declined by OnMilwaukee.com. The opinions expressed in Facebook comments do not necessarily reflect those of OnMilwaukee.com or its staff.
Recent Articles & Blogs by Dave Begel