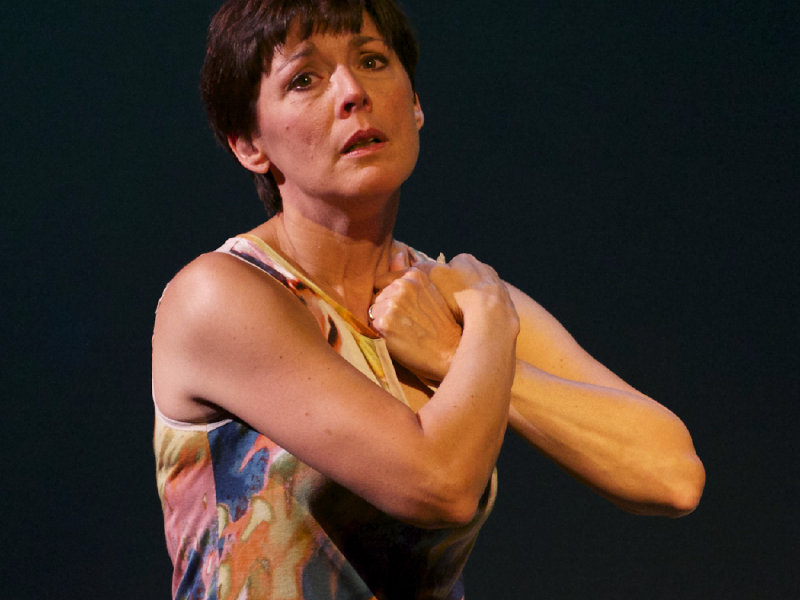 It becomes ever more clear as the journey takes us along that you better beware when you search, for what you find may well not be what you expected.
That's at the core of the fascination with "The Detective's Wife," the one-woman show that had a triumphant opening over the weekend at Milwaukee Chamber Theatre.
Director James Tasse and actor Mary MacDonald Kerr are no strangers to each other on Milwaukee stages and they combine here to create a masterpiece.
Kerr plays Alice Conroy, the 52-year-old widow of a Chicago homicide detective who was recently killed in an alley behind an aging movie theater.
Conroy has lost her voice after the murder but she has not lost anything else, including her driven curiosity that has made her an addict of pulp mysteries. She figures she has read over 14,000 of them during the 30 years of her marriage.
That addiction is a driving force behind her on-again off-again search for the particulars of her husband's killing.
This play revolves around the journey she takes to the final riveting 20 minutes when all truths are revealed. I'm not going to reveal the ending, so as not to ruin the evening for those wise and fortunate enough to see this production.
But the trip she takes is full of sorrow, psychological meanderings and a good measure of humor, most of it self-deprecating.
The phrase "tour de force" is overused in the world of the arts, but it certainly applies here to Kerr's performance.
Understand here that Kerr is alone onstage for two hours, with only the wonderfully comfortable set designed by Sandra J. Strawn as a space to play.
But Kerr has a range virtually unmatched in this city and her marvelous ability to connect with an audience is wonderful to watch.
She can make you laugh one moment, tear up the next and then breathe with comfort a moment later.
Kerr is the first winner of the Ruth Schudson Leading Lady award, named for the co-founder of Milwaukee Chamber Theatre.
A visit to see her in "The Detective's Wife" will clearly show why she was chosen.
"The Detective's Wife" runs through Oct. 13. Information is available at chamber-theatre.com.
Facebook comments
Disclaimer: Please note that Facebook comments are posted through Facebook and cannot be approved, edited or declined by OnMilwaukee.com. The opinions expressed in Facebook comments do not necessarily reflect those of OnMilwaukee.com or its staff.
Recent Articles & Blogs by Dave Begel