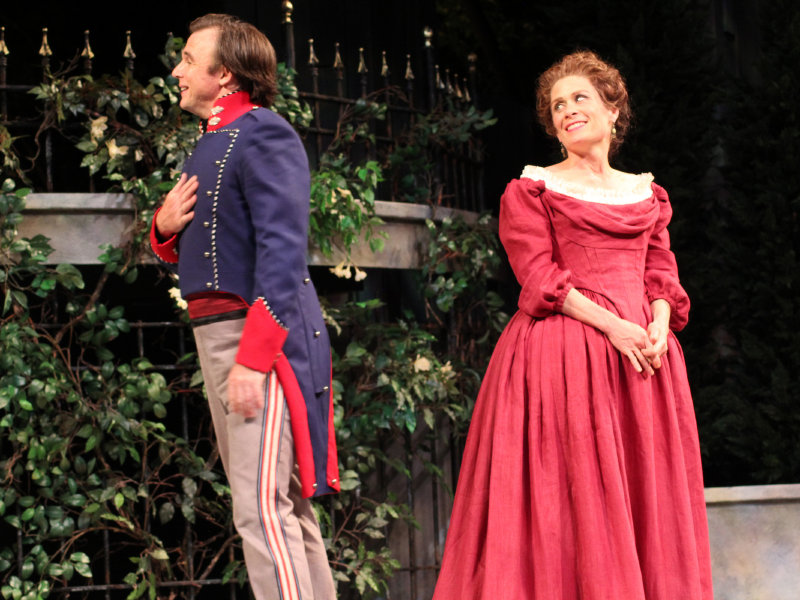 This is the way Shakespeare is meant to be: clear, explicit, honest and full of what the playwright had in mind.
The American Players Theatre opened an absolutely perfect production of "Much Ado About Nothing" under clear and warm skies Saturday night at its beautiful theater in Spring Green.
When I say perfect, I mean everything is there. The play is a delight, funny, tragic, full of love and lies, pretty women, handsome men, characters who are smart and characters who are dotty.
The sets and costumes by Roger Morgan are spectacular, colorful, detailed and evocative of both the time and place. It is not easy to design both, but Morgan's experience is on full display.
The direction by David Frank, who is in his 23rd and final year with APT, is free and pointed. He knows where the depths are in this play, both the overall depth and that for each character, and he has created a climate that allows his actors to find new things in their character.
And oh, the actors. A cast of 28 parts and not a weak spot to be found. James Pickering does Dogberry, upon whom the entire play turns in a moment, like the thoughtful and funny actor he can be – which means just about better than anyone in the state. Brian Mani gives us a father with all the pride and trouble that a child can bring. He is so strong and touching that there is a kinship with everyone who is a father, is married to a father, has a father or wants to be a father.
And then there is the couple upon which this play is built: Benedick, played by David Daniel and Beatrice, played by Colleen Madden.
The story follows this odd couple, who each pledges to never marry for a variety of reasons and who have developed a relationship built on searing insults. The pair trades barbs so sharp, pointed and funny that you almost cringe when you laugh.
Daniel is a spectacular Benedick. He is forceful, but from the earliest moments, you get the idea that behind his caustic personality there lies the heart of a romantic, just waiting to find a reason to let free. It's hard for any actor to let the audience know that there are layers to a character, but Daniel pulls this off with sparkling aplomb.
And then there is Colleen Madden. I've been watching Shakespeare for dozens of years and I have never – let me repeat, never – seen a performance quite like this.
First of all, she is absolutely stunning. She combines a kind of earthy appeal with a sexy distance that is so very charming. Then there is the language. In Shakespeare, it is all about the words that he wrote. Madden has found something special in each syllable and has put it all together into a magical series of intriguing moments. Actors the world over should watch Madden here to see how hard work and talent can find everything that Shakespeare intended.
She is funny. She is smart. She is supportive. She is independent. She grows tender, and each one of those attributes just expands this incredible personality of Beatrice. When she and Benedick finally profess their love, she proves her mettle by placing a distasteful test of his love for her before him. She may go into the night of love, but she won't go quietly.
There are two back-to-back scenes that show the comedic mettle of both Daniel and Madden.
The first occurs when three men, knowing Benedick is hiding near, go through a lengthy discussion about how Beatrice truly loves him and how they wish he knew about it. Daniel's listing and continually moving his hiding place is about the funniest thing I've ever seen.
Then the scene switches gender, and two women talk to a hiding Beatrice about Benedick's love for her. Madden's reaction is equally funny.
Something must be said about APT and Shakespeare.
Many people fear Shakespeare. They remember reading "Macbeth" in high school or taking a college survey course. They came to believe they couldn't understand the language, and that fear can be a self-fulfilling prophecy as they go to a play believing even before the curtain rises that they will not "get it."
Those people need to see this play. Under the help and guidance of voice and text coach Robert Ramirez, the language is as plain and easy to grasp as that of your neighbor. The clarity of this production is remarkable.
As is the entire play.
Facebook comments
Disclaimer: Please note that Facebook comments are posted through Facebook and cannot be approved, edited or declined by OnMilwaukee.com. The opinions expressed in Facebook comments do not necessarily reflect those of OnMilwaukee.com or its staff.
Recent Articles & Blogs by Dave Begel