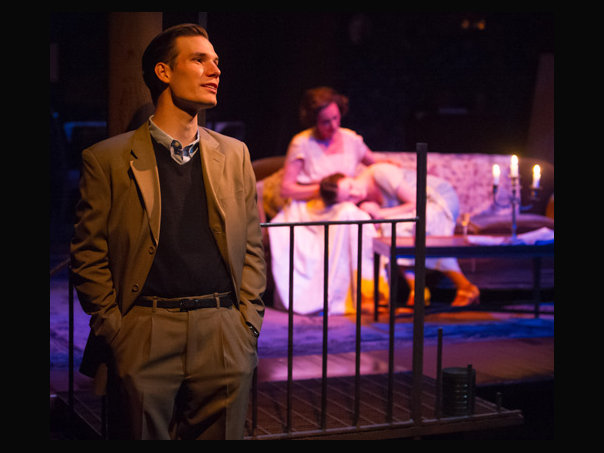 Sometimes you think you know everything there is to know about something. It's just about that time that you become fodder for a surprise that just about knocks you off your perch.
That's the experience I got when I saw a spectacular production of "The Glass Menagerie," the fabled Tennessee Williams play that opened over the weekend at In Tandem Theatre and runs through Oct. 19.
Under the brave and creative direction of Mary MacDonald Kerr, a spectacular cast of actors took one of the icons of American theater and stood it on its ear. In the course of that adventure, Kerr made sure that one of the most storied characters in this country's theatrical library developed new and fascinating layers.
Everyone who has gone through high school is almost certainly familiar with Williams and the Southern belles he has created:Â Stella in "A Streetcar Named Desire," Maggie in "Cat on a Hot Tin Roof" and Amanda Wingfield in "Menagerie."
Critics and experts for years have talked about the lusty sexiness of the first two, as well as the fantasy world and rigid, mean controlling nature of Amanda. She has been painted as the counterpoint to Stella and Maggie.
Well counterpoint no more.
Angela Iannone creates an Amanda who has all of the fantasy and wistfulness from earlier productions. But this Amanda also is clear that she has been a woman of deep passions and that she is nothing if not a survivor in a world turned topsy-turvy. In contrast to most interpretations, this Amanda doesn't have an ounce of cruelty in her, but is a mother bear who stands fierce guard over her little cubs. She has a clear vision of what it will take to maker her two children happy and who will go to any length to make that happen.
The story is one that hardly needs to be detailed.
The Wingfield family is crowded into a small apartment in St. Louis. Amanda has two children: Tom, who doubles as the narrator of this play, and Laura, who today may well have been placed on the autism spectrum although she would be a high achiever. She has a bad left leg, wore a brace in high school and is so painfully shy, she has been known to get physically sick when thrust into a public situation.
Amanda's husband deserted the family when the kids were young. He was a carouser and left for a world he had dreams about. Amanda made the best she could of this torment, keeping her family together, finding both sanctuary and instructional materials in the dreams of her more glorious past.
Amanda's goal in life is for Tom to become something other than a warehouse laborer and for Laura to meet a "gentleman caller" who will take care of her. Tom, tormented and determined, wants to dream and write poetry, while the fragile Laura is convinced nobody will ever call on her.
The role of Amanda is one of the most desirable for women actors, and with it, Iannone continues the incredible roll she is on. She opened the season for Milwaukee Chamber Theater in the one-woman "Master Class" with a dazzling performance as Maria Callas. She is no less dazzling here.
She has the haughty imperiousness of a woman who cherishes her privileged upbringing, but Iannone infuses Amanda with a kind of vulnerability that makes you want to pat her on the back and say, "Good going, girl. Keep it up."
Sure there are things about Amanda that are not so savory. She seems at times to be lost in the fumes of history. But her moments of clarity show us new things. When she talks about the man she married and whose smiling picture still hangs on the wall, there is no mistaking her message that she married him for the kind of passion she never found in any of her gentlemen suitors. She was a woman of appetite, and she obviously misses that about herself.
John Glowacki plays Tom and fills him with all of the contradictions a young man trapped in an apartment with his mother and sister would have. He is patronizing, argumentative and secretive. I was surprised how much of a connection Kerr and Glowacki created between Tom and his sister. Obviously there was love between the two.
Rick Pendzich, on something of a roll himself in the Milwaukee theater scene, plays Jim the Gentleman Caller, the one person who can fulfill all of Amanda's dreams. Pendzich gets it exactly right as he obviously is grateful for the dinner invitation, surprised at how attracted he is to Laura and how obsequious he is to Amanda.
I've left Grace DeWolff, who plays Laura, for last.
When last I saw her, she and MacDonald Kerr were teaming up for an incredible staging of "Beast On The Moon" a year and a half ago at In Tandem. The play was one of the best I saw last season, and DeWolff was a new shining star in my view.
The Laura she creates in this production is so very different than others I've seen. While she obviously has the mannerisms of someone with a fragile psyche, she also shows a surprising sense of strength and family. She is an outstanding young actor, and I hope I see a lot more of her.
Any theater company runs a risk when they mount a play like this. It's a show seen so many times, read so many times and staged by so many outstanding companies that finding something fresh and new is a chancy proposition.
Well, Chris and Jane Flieller, the two-headed force behind In Tandem, made a rewarding choice in the play, the selection of such a smart director and the casting of such wonderful actors.
Their reward ought to sell out houses every night. If it sounds like I'm gushing, it's because I am.
Facebook comments
Disclaimer: Please note that Facebook comments are posted through Facebook and cannot be approved, edited or declined by OnMilwaukee.com. The opinions expressed in Facebook comments do not necessarily reflect those of OnMilwaukee.com or its staff.
Recent Articles & Blogs by Dave Begel