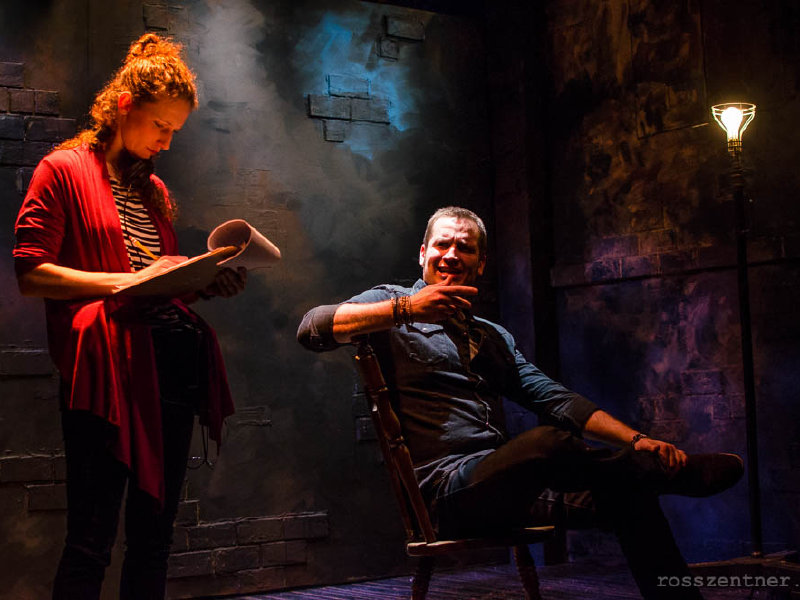 For over half a century, I have been in and around the world of live theater, as an actor, critic, spectator and lover.
And in all those five decades, I can honestly say I have never met anyone quite like the three characters in "The Understudy," the Theresa Rebeck ode to the sacred life of live theater that opened Saturday night at Renaissance Theaterworks.
There are three characters in this play.
Jake, an action movie star who makes a lot of money in Hollywood but is doing a Broadway play because he hungers for something other than shoot-em-ups.
Harry, a true serious actor in every sense of the word. He has been hired to be an understudy to Jake. He says he's pure, and he hates everything Jake stands for.
Roxanne, the stage manager, is a directed and forceful character, willing to use all manner of tricks to keep her actors in line. She is also the woman Harry left at the altar two weeks before their wedding six years earlier. He just left and never said a word. To say she is holding a grudge is a severe understatement.
There have been many plays written about the theater. Plays like "Noises Off," "Moon Over Buffalo," "45 Seconds from Broadway" and "A Chorus Line." In all of those plays, the characters seem like overblown and exaggerated stereotypes, not part of the reality of the theater world.
Rebeck seems determined to add to those plays by chronicling the joys and sorrows of a life in the theater. First, she wrote a dark comedy called "The Scene." Then came "The Understudy." Those were followed by "Smash," the dismal NBC television series that bore absolutely no resemblance to honest life in the theater.
Maybe it's because being in the theater is such a unique experience that Rebeck has created characters who are outlandish in their exaggeration. I don't know anyone in the theater like these people. But since most of your audience is not working in the world of theater, perhaps that exaggeration is necessary to make a point.  
But we are talking humor here, not a reality show. The question she faced was how is she going to get you to laugh if you're not an insider or an expert in the ins-and-outs of live theater?
She found the answer, and under the direction of first-timer Mallory Metoxen, this play is a giant laugh from beginning to end. I mean there were periods in this play where it was hard to catch my breath because the laughs came so fast and furious.
We watch as the macho man with the big but fragile ego gradually finds some truths in Harry and the kind of theater he believes in. We see Rosanne frazzled with the two actors she is supposed to rehearse, and she shares a moment with Jake when she explains the fallout from being left at the alter. We see Harry boldly wanting the play to go his way but with an eventual capitulation as the chronic and spacious distances between these people shrink.
Ken T. Williams, who I first shared a stage with a decade ago, plays Harry. He is the first on the stage and has a long monologue with the audience, eventually owning up to his bitterness at being a poor actor. Williams is an absolute darling. His face, body and language are precise, and you could enjoy him by just watching. He drew laughs with the most subtle gestures or glances.
Cassandra Bissell plays Roxanne, and she delivers a performance of many layers, making her by far the most intriguing character in the play. She rides hard on Harry, who she can barely stand, and Jake, who has an ego she knows she has to stroke. Bissell is an absolute force on stage, and she gives this play a sense of rhythm while the other two bound about like free-floating leaves in a spring breeze.
Phillip Sletteland plays Jake, ands he is the most outlandish of all three characters. He is trying to deny his roots and join a new fraternity of serious actors, but he just doesn't have it. Sletteland has all the bluster of Jake and even some moments of self-doubt and self deprecating humor.
A word needs to be said about Metoxen and the women who run Renaissance, founded two decades ago to provide more opportunities for women in the theater.
Metoxen has never directed a professional company before. She is in her mid 20s. But the women who run Renaissance were willing to take the gamble and roll the dice on a self-assured kid who seemed like she might actually be able to do this.
On this roll of the dice, they came up with a natural, 7 or 11.
"The Understudy" runs through Feb. 9. Information is available at r-t-w.com.
Facebook comments
Disclaimer: Please note that Facebook comments are posted through Facebook and cannot be approved, edited or declined by OnMilwaukee.com. The opinions expressed in Facebook comments do not necessarily reflect those of OnMilwaukee.com or its staff.
Recent Articles & Blogs by Dave Begel