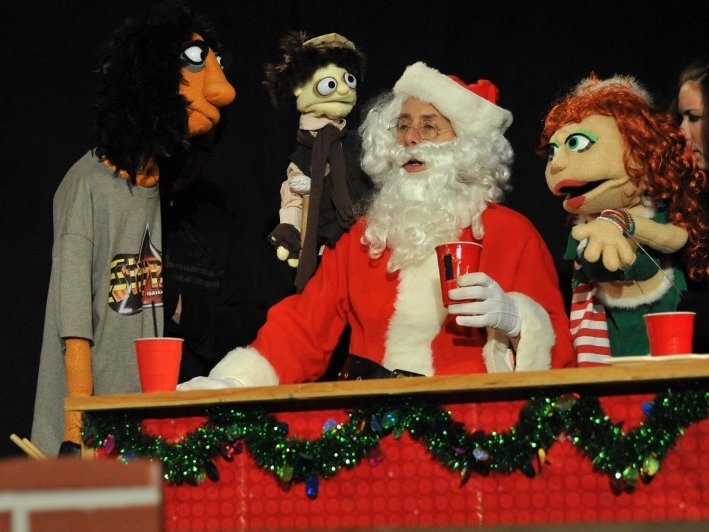 It's hard to get your head around all of the suspects as you try to answer the titular question of "Who Killed Santa?"
That's the burning issue, again, as a rag-tag band of players stage "Who Killed Santa?" for the fifth consecutive year. This edition, which only runs through Jan. 12, is being staged at the Underground Collaborative, a wonderful creative space in the Grand Avenue under T.J. Maxx.
It's frustrating to try and do justice to just how funny this play is. Not just the moment to moment kind of funny. But also the more global kind of funny, where you keep shaking your head at this incredible chain of events and the tapestry it weaves.
The story is really pretty simple. Santa is holding his annual two days before Christmas party. His guests include Frosty the Snowman, Rudolph the Red-Nosed Reindeer, Tiny Tim and Steve the Little Drummer Boy. The group is joined by Chastity, a buxom redhead who Santa has brought into the group in the name of either diversity or lechery.
Sadly, in the first act, Santa is killed with the final blow being a sharp candy cane driven into his back. And that kicks off the mystery of just who did this dastardly deed.
Before we get to the suspects, it's important to acknowledge a wonderful  actor named Bo Johnson. His dissolute and slightly perverted Santa is a classic case of a good man gone bad because of drink and wenching. Johnson also takes his turns as the detective who investigates the murder, the Tooth Fairy who wants to be a private eye, and in a development that boggles the mind, Mrs. Claus.
Johnson is just about as funny as they come. It's hard to fathom how one actor can play so many wildly different and distinguished characters in one play. Each one is classically unique, and Johnson pulls it off with nary a misstep.
Now, to the suspects.
Frosty, played by Nate Press, is truly the village idiot. He's brought a mop for when he melts a bit and has a vicious arm that could have been the murder weapon.
Tiny Tim, performed with a wonderful limp by Amy Geyser, is worried that he will never become a real man and wants desperately to beat Santa to win the favors of the always-sexy Chastity.
Rudolph (Brittany McDonald)Â has antlers that could have been a murder weapon. Between trips to the bathroom and wonder about his sexuality, Rudolph seems to have motive and opportunity.
Meanwhile, Steve (played with exceptional aplomb by Rick Pendzich) has those drumsticks that could have been used in the assault. He seems to be the only one with even a slightly even and steady view of life, but as the saying goes, who knows?
Then there is Chastity herself, played with all the sultry swagger needed by Liz Shipe. She is a siren of the North Pole and makes men's hearts beat faster with just a glance and a pout.
It needs also to be said that each of these wonderful actors is accompanied by a puppet that they operate. The puppets and actors combine to create a powerful force, with each playing off each other. It's a wonderful, almost spiritual experience.
If you can't get enough seasonal spirit, "Who Killed Santa?" is guaranteed to keep it alive and well, at least until the middle of the month.
And now that we have discussed the suspects, it's time to reveal the ending. Nah; just kidding. As they say in the mystery theater business, if you want to know, you got to go.
For more information about the show and tickets, visit their website.
Talkbacks
longveu | Jan. 3, 2014 at 3:23 p.m. (report)
Saw the show last year and I agree it is difficult to express how genuinely funny it is. Little raunchy, but never gratuitously so. I just bought tickets for tomorrow's show and have been looking forward to seeing it again all year!
Facebook comments
Disclaimer: Please note that Facebook comments are posted through Facebook and cannot be approved, edited or declined by OnMilwaukee.com. The opinions expressed in Facebook comments do not necessarily reflect those of OnMilwaukee.com or its staff.
Recent Articles & Blogs by Dave Begel