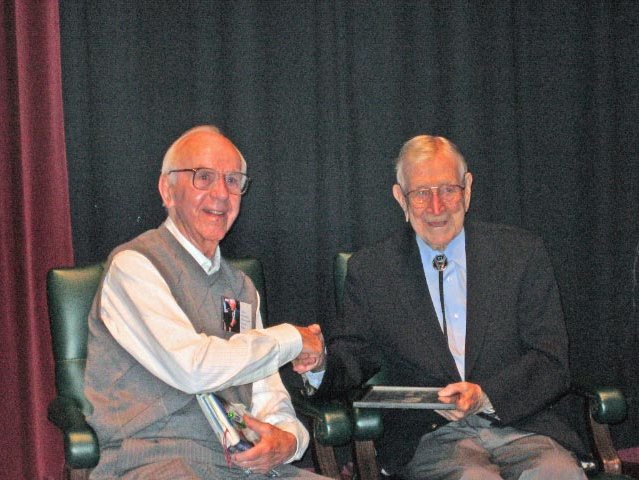 Warren Whitlinger was born in Barnsville, Ohio two months before World War I broke out in 1914. He was a natural athlete, playing both baseball and basketball at Ohio State. As a Buckeye basketball player, Whitlinger let the Big Ten in scoring while earning All-Conference honors as team captain in 1936.
Today at 97, Warren Whitlinger is known for an entirely different sport, and not as a player, but rather as a coach. As the revered patriarch of the Whitlinger tennis family, he remains sharp as a tack, and is still sought-after as a mentor of young athletes in the Fox Valley. His lessons are legendary; his philosophies broken down into simple phrases.
Grandson Tate, now 34, took lessons from the man lovingly known by most that know him as 'Baba'. "We would always have these little note cards he gave at the start of practice with quotes that I'll never forget," Tate Whitlinger says. One day it was Make it Happen, the next it was The harder I work, the luckier I'll get. We would have to rehearse them in front of the whole class."
How did a former basketball player morph into one of the great tennis minds in the country when he himself never played the sport? Moreover, how does a horse barn in Neenah, Wisconsin become a pipeline to professional tennis? It all began with Warren's son, John, during the summer of 1968.
John Whitlinger, like his father before him, was a naturally gifted athlete. He excelled in not only his father's sport, basketball, but also the game his older sister, Wendy, was playing, tennis.
I loved basketball," John, now the men's tennis coach at Stanford University, remembers. "But my dad and I had a heart-to-heart one evening in the den in our house, and he basically said 'you can be good in two sports, but if you want to be great in one, you might have to give the other one up.' I realized that I wasn't going to be the tallest guy in the world, so we went the tennis route."
So off to a converted indoor tennis court dubbed "The Barn" they w…
Read more...