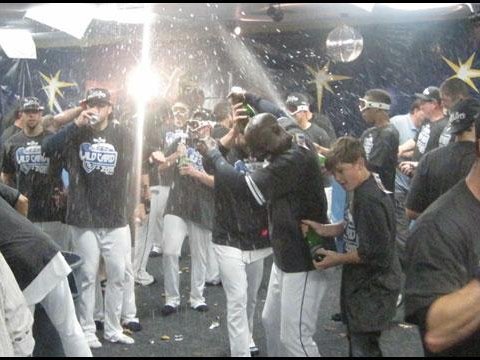 You can't say baseball doesn't know how to go out with a bang.
Oh, I know there are of course still the playoffs, and for once Milwaukee will be riveted to how the Brewers fare in October. But Wednesday night, with so much still to be decided, the American game that has survived five wars and 24 presidents made the entire sports universe stand up and say "Wow!"
Of course we were all watching and waiting for the Brewers to secure home field advantage for at least the first round of the playoffs in their final game against the Pirates. The Brewers were also looking at setting a franchise mark for wins in a season, and hoping to extend their record for home victories as well.
After the Brewers got off to a third inning 2-0 lead on home runs by Jonathan Lucroy and Corey Hart, you had a sense that they might be able to celebrate a little bit earlier than some of the nail-biters that September has sometimes foisted upon us.
After Carlos Gomez' three-run shot in the fourth, I felt comfortable enough to check out the other games that were going on. I'm glad I did. Because what I witnessed along with millions of others around the country was nothing short of incredible, and even reeled in casual baseball fans that had turned the page to football more than a month ago.
In Atlanta, the Braves were in the midst of an implosion for the ages. Having won just 9 games in September while surging St. Louis had already gone 20-8 in the last month of the season, Atlanta needed to hold their slim 3-1 seventh inning lead on Philadelphia. A win and a Cardinals loss would wipe the slate clean and the Braves could forget their September swoon altogether. If both teams won, at least Atlanta would be able to salvage their disappointment with a 1-game tiebreaker Thursday night in St. Louis.
When the Cardinals scored five runs in the top of the first inning in Houston, the Braves knew that this was it. Win or go home. The Phillies, playing for nothing with their top-seeing long since clin…
Read more...