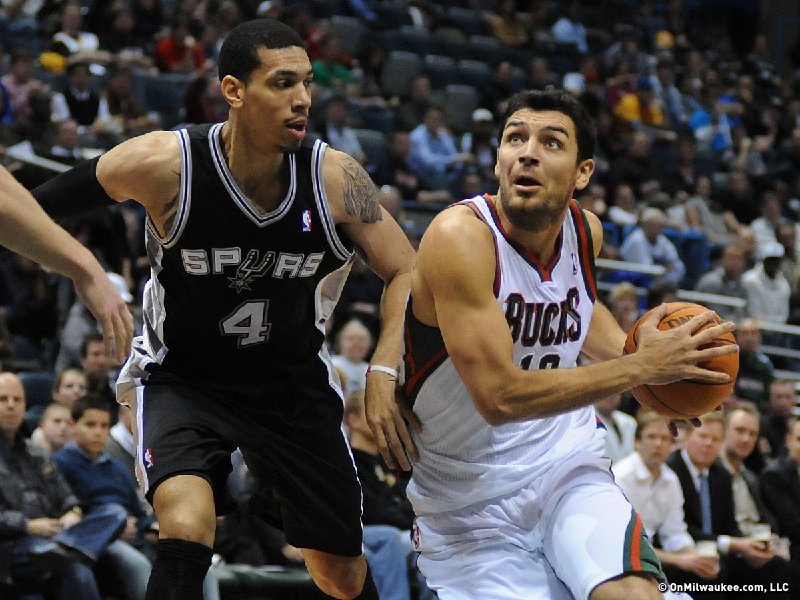 The Bucks did something Tuesday night at the Bradley Center that they had not done since April. They beat a quality opponent, defeating the San Antonio Spurs, 106-103, in front of 11,585 fans.
Returning for the first time since a family medical emergency in Australia, center Andrew Bogut scored 14 points and pulled down 11 rebounds in almost 35 minutes. With Bogut in the lineup, the Bucks seem to play with more confidence and aggression.
"Not having him is just like not having air," teammate Stephen Jackson said afterwards. Jackson had a season-high 34 points in the win. "That's one of the biggest things is having our big fella back. We need him down there."
Bogut only returned from Melbourne the previous evening, having spent almost an entire day in the air traveling.
"I wasn't too comfortable out there," according to Bogut. "I was just trying to grind it out and try to get a win for the team. I was on a plane for 40 hours there and back. Sitting on a plane when you're 7-foot (tall) is not the best, most comfortable thing in the world. My sleep pattern has been off. I've been getting tired at different parts of the day just from the jet lag."
Aside from Jackson's 34 points, the Bucks had balanced scoring, getting double digit points from Carlos Delfino (18), Brandon Jennings (15), and rookie Jon Leuer (10), who continues to impress his coach.
"Jon is always in the right place, seemingly at the right time," Scott Skiles said after the game. "He knows what he's doing out there. Playing his first game against the Spurs and being out there with (Tim) Duncan and (DeJuan) Blair and those type of players, he did very well."
With the win, the Bucks improve to 3-6. They are idle Wednesday before hosting the Detroit Pistons on Thursday night.
"We made enough plays," Skiles concluded. "We'd like it to be a lot smoother than that. Neither team was great defensively tonight."
Talkbacks
brewcitypaul | Jan. 11, 2012 at 8:11 a.m. (report)
Start Jon Leuer! He is currently the Bucks best option at PF with no Moute. Great win by the Bucks. Great to see Jax show up to play. Bogut and Jennings chip in double doubles. Ersan still looks lost and confused out there. I think his mind is done with this team and the NBA. He wanted to stay in Turkey. We probably should have let him.
Facebook comments
Disclaimer: Please note that Facebook comments are posted through Facebook and cannot be approved, edited or declined by OnMilwaukee.com. The opinions expressed in Facebook comments do not necessarily reflect those of OnMilwaukee.com or its staff.
Recent Articles & Blogs by Doug Russell