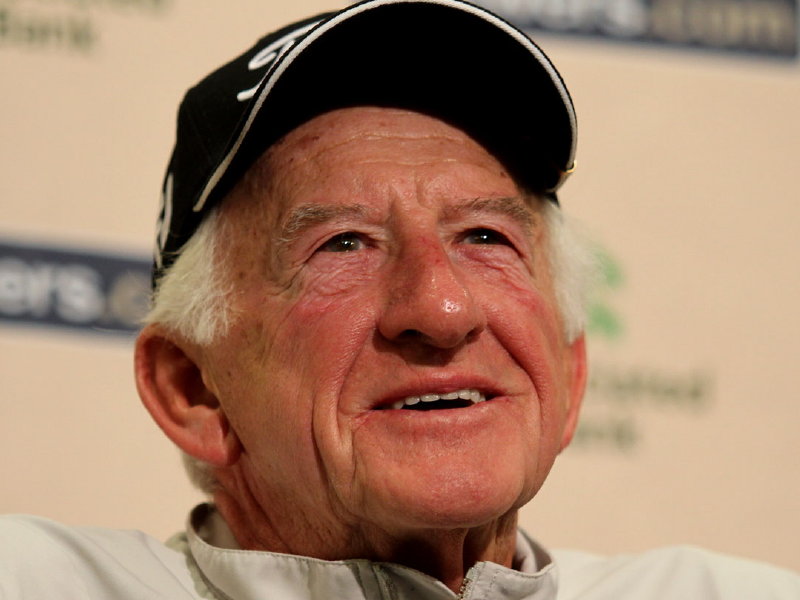 A lot of baseball royalty will gather this afternoon for Bud-a-palooza, aka the unveiling of the Bud Selig statue at Miller Park.
Say what you want about Selig's role in the steroid scandal, the cancellation of the 1994 World Series or the signing of free-agent first baseman Franklin Stubbs, neither Major League Baseball nor Miller Park would exist in Milwaukee without the efforts of Alan H. "Bud" Selig.
You know how those professors in Beloit put out the cultural references lists? We've got a whole generation of people who think the commissioner of baseball has always worked out of an office on top of the U.S. Bank building Downtown.
Selig is going to be honored today and will be joined by Hank Aaron and Robin Yount (the other "statuesque" figures outside the park), Paul Molitor, most of the 1982 Brewers, half of baseball's owners and a fair number of employees from the commissioner's office in New York.
It's going to be a great day for him. And, it got me thinking ...
The next statue at Miller Park really is a no-brainer.
They're going to have to put one up for Bob Uecker. The guy has been the face of the franchise for about 40 years. His absence this summer after undergoing heart surgery reminded everyone just how much he means to the Brewers and summer in Wisconsin.
A month after returning to the booth, Uecker sounds as strong as he did 10 years ago. The guy who never missed a game (at least after "Mr. Belvedere" wrapped), might benefit from taking an occasional trip off in the future. Maybe he'll eventually work a home-games-only schedule like Dodgers icon Vin Scully, who announced last week that he's going to do another season of home games at age 83.
But, Uecker is such a fixture for this franchise that he deserves to be a fixture outside the ballpark, too.
On Sunday, Uecker joked about Selig's statue -- "I just have two more welds and I'll be finished!" -- and he'd probably laugh at the notion of his own statue.
But, he deserves it.
Facebook comments
Disclaimer: Please note that Facebook comments are posted through Facebook and cannot be approved, edited or declined by OnMilwaukee.com. The opinions expressed in Facebook comments do not necessarily reflect those of OnMilwaukee.com or its staff.
Recent Articles & Blogs by Drew Olson