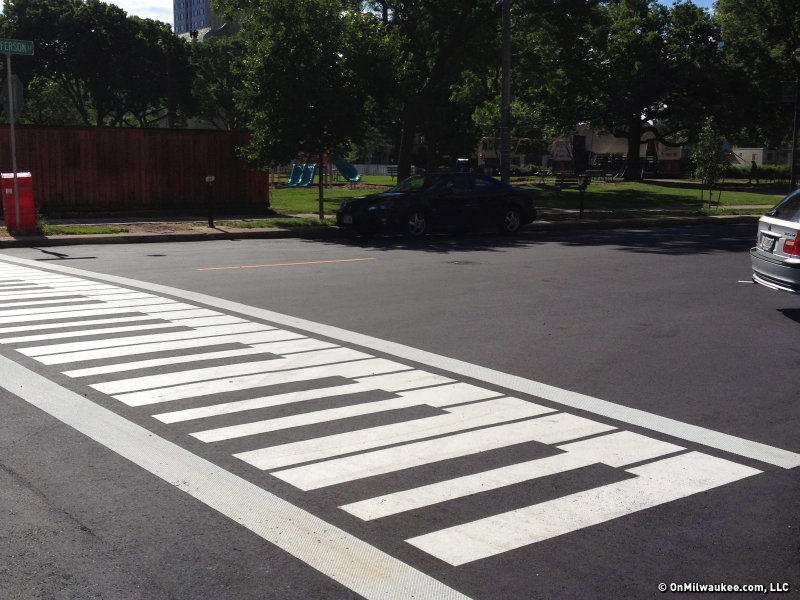 Social media makes things happen. 
Two months ago UrbanMilwaukee posted a photo of a pedestrian crosswalk that was tuned up to look like piano keys. Peter Adams, assistant director at the East Town Association, shared the photo with a note along the lines of "wouldn't this look great in East Town?"Â 
Shortly thereafter Ghassan Korban, Commissioner of Public Works at the City of Milwaukee, contacted East Town to say he thought the piano striping was a great idea.

Since Milwaukee's East Town neighborhood is home to Jazz in the Park, the City thought it was more than fitting that two of its crosswalks take the shape of piano keys. Made perfect sense. 
Today, at Kilbourn and Jefferson Streets and Wells and Jefferson Streets, the new crosswalks were painted in. Check them out when you hit Jazz in the Park next. 
I love this type of public art. And, Adams said that city engineers made sure that the keys were to scale.
"They are as close to scale as a real piano on a street can be," said Adams.
DPW hopes to install additional creative public art cross walks in the Historic Third Ward. They'll be used to connect the Milwaukee Institute of Art and Design (MIAD) to its union. 
Until then, enjoy some piano playing and walking in East Town.