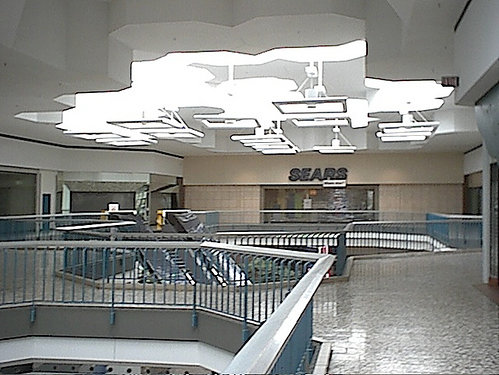 Major Milwaukee news broke in China at the end of December, and since many people were on vacation and the topic hasn't yet garnered the buzz I thought it would, I thought I'd comment on AmAsia Plaza.
What's AmAsia Plaza? It's the probable new development at Milwaukee's long shuttered Northridge Mall. And, it could be a very, very big deal for greater Milwaukee.
Chinadaily.com's Wang Chao broke the story on Dec. 30, writing, "A Beijing company has purchased a shopping mall in the U.S., marking the largest overseas acquisition of commercial property by a Chinese enterprise to date.
"Beijing's Toward Group said it will open the mall in Milwaukee, Wis., in August 2010 when 40 percent of tenants are expected to have moved in. The company announced its acquisition of the property on Dec 24."
A mall of Chinese retailers and restaurants on Milwaukee's Northwest Side? Interesting and possibly one of those regional game changers that could truly become a destination for years and years.
Wow, if only the Milwaukee Bucks still had Yi Jianlian, the acclaimed Chinese NBA player. Side note, I do kinda miss Yi. His presence brought a whole new attention to the Bucks. And, even though I don't think he'll ever be an elite player in the league he's playing well now. But, he never truly wanted to be here.
Anyway, the investors at the old Northridge do want to be here. "The sales tax rate in Wisconsin is only 5.5 percent, much lower than the average level in California, which is 7.25 percent to 9.75 percent," Wu Li said to Chinadaily.com. "The purchase only cost $6 million. It would cost $100 million to build a similar property.
"If the occupancy rate is high enough, this mall will be worth a lot of money in the capital market," said Wu. "That is how we will make our profit.
"Besides, it is the economic center of Wisconsin and is only an hour away from Chicago," Wu added. "There are almost no big malls dedicated to sell Chinese products. We face far less competition than on the East and West coasts."
It's far too early to assess what AmAsia Plaza could or will become (who knows if the name will even stick), but here are several reasons to be optimistic:
Ningbo, Milwaukee's sister city, will be involved giving the Milwaukee development an even more international and relationship-based flavor.
Northridge is still a black eye for the area. This helps it heal.
Milwaukee needs unique destinations. And AmAsia Plaza could be something truly different.
Walmart is close by. Obviously, this company knows retail and the investors of the Chinese project have seen Walmart's success in the area.
Outside investment in Milwaukee is a good thing. Our area can sometimes have a small city attitude about it.
Opening up to ideas from international investors raises Milwaukee's game and profile.
Read the full story at the link below and search other local media for takes on this development. Personally, I'm exited about its potential and eager to learn more.
What's your take? Use the Talkbacks now.
Facebook comments
Disclaimer: Please note that Facebook comments are posted through Facebook and cannot be approved, edited or declined by OnMilwaukee.com. The opinions expressed in Facebook comments do not necessarily reflect those of OnMilwaukee.com or its staff.
Recent Articles & Blogs by Jeff Sherman