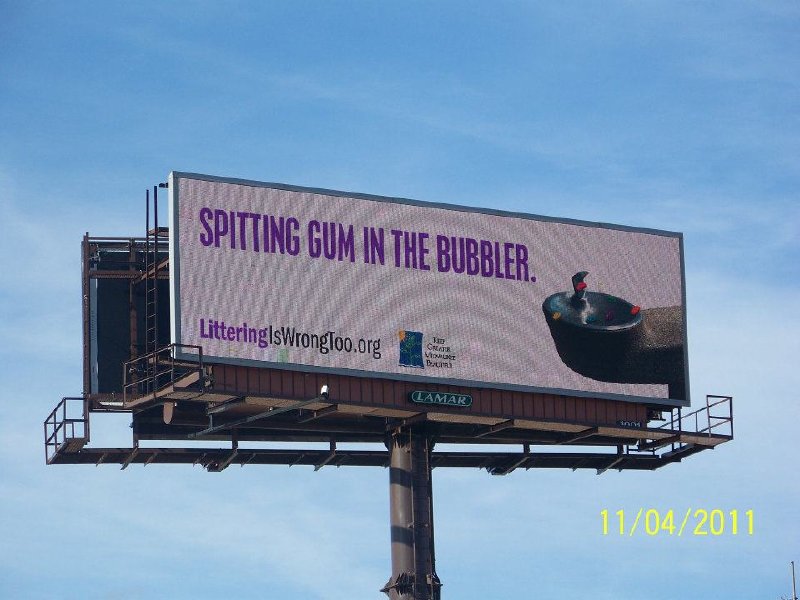 I haven't actually seen the new Keep Greater Milwaukee Beautiful (KGMB) billboards, but did notice them on Facebook this morning.  
All in all, they're excellent and truly Milwaukee-based.  They're creative, clever and local.  Three things that we love and appreciate here at OnMilwaukee.com.
According to the promotional website litteringiswrongtoo.com, the campaign attempts to equate littering with other "brainless, irrational, ridiculous, thoughtless, twisted, diabolical, rude, sinister, conniving, grievous, just plain wrong wrongs."  
It's a national campaign, but Keep Greater Milwaukee Beautiful localizes it using several Milwaukee area images and icons including MillerCoors, Wolski's, bubblers, fish fries, State Fair, Miller Park, Summerfest, the Lambeau leap, Secret Stadium Sauce, local personalities Freeway and Milverine and more.   
Joelene Lowe Plier, Digital Administrator at Lamar Milwaukee, tells me that Lamar teamed up with KGMB and "started with a list of things totally Milwaukee."  From that list, Lamar "came up with copy lines and then added some art."
"We're constantly thinking about additional ads we could create as the KGMB campaign continues. When we started the thought process it was in the thick of the NL Playoffs so we had to taper the baseball references. Now that winter is upon us I think we'll come up with some other ads," added Plier.  
See all the images here and use the Talkbacks to add your "just plain wrong wrongs."
Facebook comments
Disclaimer: Please note that Facebook comments are posted through Facebook and cannot be approved, edited or declined by OnMilwaukee.com. The opinions expressed in Facebook comments do not necessarily reflect those of OnMilwaukee.com or its staff.
Recent Articles & Blogs by Jeff Sherman