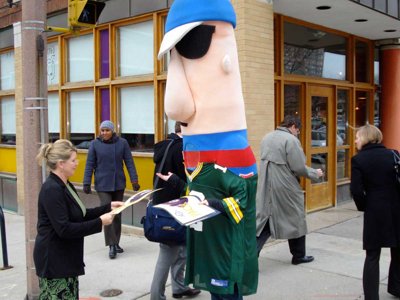 Admit it, you drive too quickly through our Downtown and probably your own neighborhood, too.  Sadly, the city makes it easy with too many one-way streets (Wells Street, for example) and cross walks that don't get the attention they deserve.
Luckily, the City of Milwaukee is doing something to raise pedestrian safety issues as it kicks off StreetShare Pedestrian Safety Week this week. 
Too many motorists don't stop when pedestrians try to cross the street, and -- admit it, you do this, too -- even honk the horn at people in crosswalks.  Drivers, of course, are required by law to stop for them given appropriate warning and stopping distance. Seven pedestrians have been killed by motor vehicles in Milwaukee this year and 18 were killed in 2007.
The Klements Racing Sausages and other local mascots (Brad Beach from the Wave, Roscoe from the Admirals, Marquette's Golden Eagle and others) will help the pedestrian cause all week during the City of Milwaukee's first annual StreetShare Pedestrian Safety Week, Oct. 6-10.
The sausages and other Milwaukee mascots will work at different crosswalks each day walking across the street to raise awareness that Wisconsin State Law requires drivers to yield to pedestrians in a crosswalk whether it is marked with paint or unmarked. 
StreetShare Pedestrian Safety Week is timed to coincide with National Walk to School Day, Wednesday, Oct. 8.

Talkbacks
CarolV | Oct. 6, 2008 at 1:39 p.m. (report)
I love my BV neighborhood but despite the big pedestrian crossing signs on KK, drivers on Kinnickinnic Ave. definitely do NOT yield to pedestrians in the walkway. And then, when you do attempt as a driver to yield to pedestrians, either the pedestrians don't go because they don't realize they should because they think you're silly to try to stop without a stop sign, or they feel unsafe because if you wait too long cars go around a stopped car that is stopping for a pedestrian, and they drive around you in the bike lane!? And then they honk at ME for stopping to yield to a pedestrian in a marked street crossing!? (can you tell these issues drive me batty!?) Its a great thing that the city (and the mascots) are trying to draw attention to these issues...there are issues of pedestrian safety, bike lane safety, and driver safety that will be highlighted in this effort. Great job! (and, btw the Bay View Neighborhood Association has a volunteer who is charged with trying to build awareness for pedestrian safety issues because this is such a problem in our neighborhood--see bayviewneighborhood.org if you want to get involved.)
Facebook comments
Disclaimer: Please note that Facebook comments are posted through Facebook and cannot be approved, edited or declined by OnMilwaukee.com. The opinions expressed in Facebook comments do not necessarily reflect those of OnMilwaukee.com or its staff.
Recent Articles & Blogs by Jeff Sherman