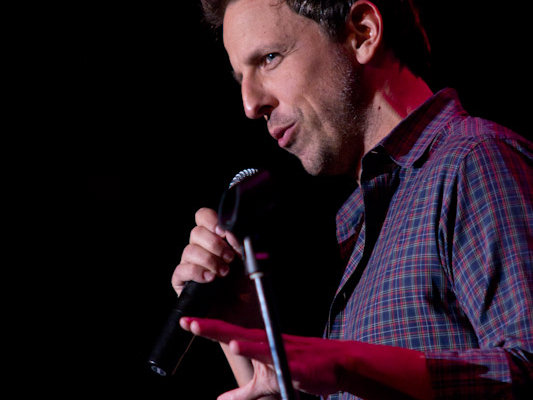 I DVR "Saturday Night Live" each week, and usually end up watching the opening segment, the Digital Short (if there is one) and always "Weekend Update."  
"Update," I think, is entertaining, witty, creative and funny.  So, I was excited to see "Weekend Update" anchorman Seth Meyers Thursday night at the Pabst Theater.  
The 37 year-old lead writer at SNL took the stage 7:38 p.m. sporting jeans, a button down and high top Nikes with orange laces.
Meyers, to warm the crowd, led with the Brewers announcing that even though he's a Red Sox fan that the Brewers were his team for these playoffs.  He lamented that Bernie Brewer doesn't slide into a mug of beer anymore, but toasted Milwaukee for its beer tradition while mocking St. Louis for its lame "Cardinals" nickname.  
He then, of course, dove into politics.  Fresh from a gig in Madison, and not long removed from his summer hosting duties at the White House Correspondents' dinner he easily made fun of Wisconsin's national place in the political scene with quips about collective bargaining, failed recalls and Gov. Scott Walker.  
Comparing Madison and Milwaukee, Meyers fawned over the beauty of the Pabst Theater.  He said on Wednesda night he was at "a very beautiful theater, but now that I'm here I can say it (the Barrymore Theatre) was a sh@thole.  This place (the Pabst) is super nice.  That chandelier (wow) Madison had a flashlight hanging from the ceiling," said Meyers.  
Meyers continued saying that the Pabst Theater isn't what "he associates with the brand Pabst."  "When I drink Pabst, I don't think chandeliers and beautiful edifices.  I think red Solo cups and 'we don't have enough money for Heineken.'"
Meyers' easy going style fit the Pabst Theater well as he flowed from story to story and topic to topic.  
 On Gov. Rod Blagojevich:
"I didn't know Al Sharpton came in white."
 On Gov. Arnold Schwarzenegger:
"...how could the people of California ever known that something would go wrong since they had elected an ex body builder/action star/sexual harassment hobbiest/guy from Hitler's country."  
 On the GOP debates:
"It's kind of like Survivor where no one gets voted off the island."  
Meyers was very comfortable with his jabs in the spirit of "Weekend Update" (he even did some outtakes with punch lines that were censored for TV), but he went beyond politics into a myriad of topics from tourist photography, to Las Vegas, to how technology had changed pornography, to video games, to "Moby Dick," to his friends with kids, relationships and more.  
He told a funny story about meeting President Obama before the White House Correspondents' dinner.  Seems Meyers was a little quick in extending his hand to the president and accidentally knocked his girlfriend's hand out of the president's way.  I'd heard him tell the story on Bill Simmons' podcast this summer.  It's funny, hear it here.
On moving in with his girlfriend:
"The biggest difference (compared to living with guy roommates) is how often I'm asked 'what are you doing?"  "No matter how much more I'm asked 'what are you doing/thinking, though -- it's totally made up for by how much better my towel situation is."
Meyers, who doesn't have children, told a great story about talking culture issues with his friends with kids.  It was real and hilarious.  
All in all, Meyers did a crisp 75 minute set that was full of life, stories and fun.  I expected a bit more politics, but was pleased that Meyers left out the slant and editorializing that many of today's stand up comics bring to their shows.  Meyers was just good, funny, down to earth and real.  
I expected a Q&A at the end of the set, but frankly it wasn't needed and might work better after he's off SNL and moves on to whatever is next for him.  
For now, Meyers is off to Chicago this weekend for shows at his alma mater Northwestern and to be the grand marshal in the Homecoming parade.  
Talkbacks
shary26 | Oct. 21, 2011 at 10:27 a.m. (report)
Nice recap, Jeff. It was a fantastic show. Meyers charmed the crowd right from the start which drew my attention away from his seemingly ill-lengthed shirt. He had a great natural style that made it seem like a really funny friend just telling stories over drinks at a bar. I wish his set was longer!
Facebook comments
Disclaimer: Please note that Facebook comments are posted through Facebook and cannot be approved, edited or declined by OnMilwaukee.com. The opinions expressed in Facebook comments do not necessarily reflect those of OnMilwaukee.com or its staff.
Recent Articles & Blogs by Jeff Sherman