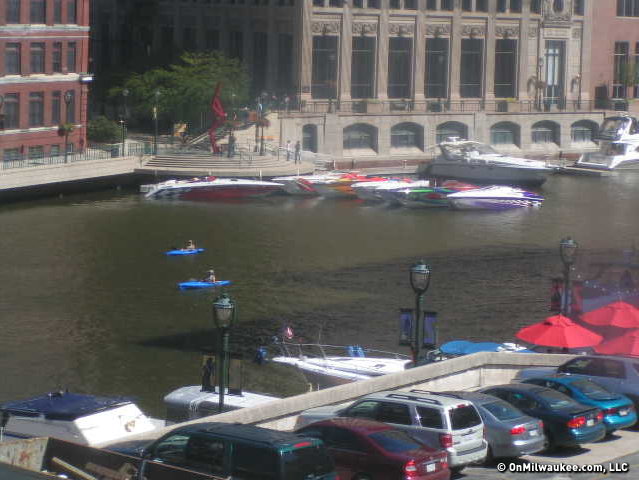 Thank you, Harley-Davidson. Thank you, and congratulations.
I'm giving it to you, not like I really have the authority, but I'm here to declare that Milwaukee is now officially your town; yours to own, grow and bring your loyal, passionate, "Harley-Davidson motorcycle enthusiasts" home whenever and however you want.
The energy and flat-out rollicking nature of the past several days has been nothing short of amazing. Add the weather, a sweep from the Brewers (and a near no hitter) and the Holiday weekend and there was a roar in Milwaukee that's just very special. Downtown hums, bustles and bursts in a way that it only can when thousands and thousands of HOGs and their riders ascend. Sure, they bring noise, but they bring dollars, smiles and most importantly an appreciation for Milwaukee and for the way (especially during the parade) that they are treated like near rock stars. It's awesome.
Since I've been in the heart of Downtown all week, a few observations:
Even the Milwaukee River was packed. Except for fireworks nights, I've seen few evenings as crowded. It's pretty cool.
Police are everywhere. Crowds are controlled and generally people are behaving.
Haven't seen any official attendance estimates, but I love the feel of Downtown with 100,000-plus extra people.
For as many Miller signs that I see on bars, there are equally as many Coors Light, Budweiser and Jack Daniels ones, too.
The neighborhoods that did motorcycle-only parking got the most traffic and, probably, the most business in their restaurants, stores and bars.
Was it just me, or was it super easy to get beer at the Springsteen show? I never waited in line.
The bathrooms, though, could have been located a bit more conveniently at Veteran's Park.
Thank you Northwestern Mutual for the cool H-D on your building. As I written before, we need more buildings sporting creative lighting.
Is there any other group of people that dress as similar as Harley riders? Seriously, black shirts (H-D, off course) and jeans on 89 percent of them. Think about it, is there any other group that backs and supports a product with as much passion and as much of a similar dress code? Maybe some bands or sports teams? But name one another company? You don't see Mac-heads dressing like Steve Jobs!
Downtown could use a few more coffee places and / or cafes. I had several people ask where the closest coffee was and many others wanting breakfast / cafe options other than their hotel.
For the 110th, I'd suggest a few more official events that don't have booze and music as the focus.  I love booze and music as much as the next guy / girl, but this crowd is aging and I felt that some were looking for more options.  Discovery World did a great job with its exhibit.  More stuff like that, I think, is needed.  
If you missed the Dierks Bentley show, you missed a great one. We headed to the Summerfest grounds after hearing a few Bruce tunes Saturday specifically to hear Bentley. The over flow crowd at Biggs sang along as Bentley worked the crowd with similar zeal as the Boss. No, he's no Springsteen, but I truly enjoyed his show and it ended in time to walk the lake back to hear Bruce's 11-song encore.
If this is now Harely's city, what's next? The museum will be front and center for a while, but how do they, as a company, continue this buzz on a local level and, more specially, in Downtown Milwaukee? Harley Café, anyone? Build one now!
The world loved Milwaukee. I can't tell you how many people said how lovely, clean and nice our city is. Everyone had great things to say. Milwaukee, you should be very proud.
All for now, sure there are more memories to recount so use the Talkback feature to tell us yours. See you at the 110th! Ride on and On Milwaukee.
Talkbacks
gymdawg | Sept. 2, 2008 at 10:31 a.m. (report)
This really is Harley's city. Going around town yesterday it was amazing how many people were wearing something with "Harley Davidson" on it. They weren't all bikers, since most of them had already left town. It's sort of like how everyone wore Packers gear about 10 years ago when the team was in the Super Bowl.

Just some very random thoughts: I too was pleasantly surprised at how easy it was to get a beer at the Springsteen show, and no lines for the port-a potties! The crowd, at least where I was standing, was pretty mellow; I looked around and a lot of the people I saw weren't even drinking. The crowd was older--I'd say mostly people in their 40s and 50s.

The Summerfest grounds really rocked Friday night with ZZ Top. Saturday afternoon was graet with Joan Jett as well.

Water Street was a blast Sunday and even Friday night even though their was no "official" party there that night. First time I had been out on Water Street in years.

Absolutely perfect weather. Sunny, warm days. Comfortable nights with no need for a sweatshirt.

All in all, a great weekend. And I have never been more proud to be from Milwaukee.
Villajorgejr | Sept. 1, 2008 at 2:40 p.m. (report)
HARLEY DAVIDSON did a WONDERFUL job with the event. Wow!

What this city needs is More City Marketing Internationally, nationally and even welcoming them.

They love the brand, They support the brand, They spend a fortune for the brand and it all comes back to ONE CITY "MILWAUKEE"

How could Milwaukee Help to Market the Harley Davidson Brand every 5yrs? As I tax payer for this city - - I say spend the money in help Harley Promote their event Internationally.

There had to been at least over 500,000 people Spending money on just this event.

Celebraties and Politicians are even involve.

The least Milwaukeans can do is Make them want to come back "EVERY 5yrs"


curlyboy1978 | Sept. 1, 2008 at 9:35 a.m. (report)
Great observations and suggestions! 1) There are a ton of coffee places downtown, but many are hidden (like Java Corner or Alterra in the US Bk building lobby). 2) The crowd maybe aging, but music is still important to 80% of the bikers. Instead of spilting the crowd between Vet's Park and SF, maybe they should just keep it all on the SF grounds? And make it one BIG day since we have ton of local block parties and the Harley dealerships have their own stuff going on as well. 3) Heard multiple comments from random out of towners and local bikers about the total lack of organization at the HOG rally @ Miller Park. 4) I admit sometimes I take Milwaukee for granted, so I was floored but how many bikers were talking about this city being great and one of the best they ever visited - even taking pictures of the skyline (who would of thought?). 5) I do think they need something refreshing for the 110th, otherwise it will be the same thing every 5 years & the number of bikers visiting will slowly decline.
Facebook comments
Disclaimer: Please note that Facebook comments are posted through Facebook and cannot be approved, edited or declined by OnMilwaukee.com. The opinions expressed in Facebook comments do not necessarily reflect those of OnMilwaukee.com or its staff.
Recent Articles & Blogs by Jeff Sherman