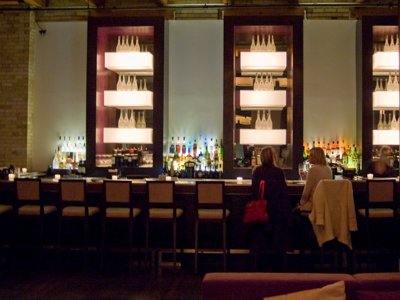 UPDATE:
Sources who know the owner, Mr. Bobby Head, say the space is "temporarily" closed. I'll continue to update the story as I get more information.  
At 9:30 p.m. Friday evening, one of Milwaukee's hottest nightspots, Soho 7, was vacant. No lines and no DJ. Doors closed, for lease sign on the side of the building and when we tried to call the phone number -- no answer.
Indeed, it appears that Soho 7, 231 E. Buffalo St. is closed.
2008's "fashionable addition" to the Historic Third Ward, Soho 7 was a cool and popular lounge, and a transformation of a former furniture store.   For what it's worth, I liked the place and always had a good time there.  
Bobby Head, a former owner of Water Street's swanky Centanni Piano Bar, conceived the idea for Soho 7, and as OnMilwaukee.com's Julie Lawrence wrote in 2008 "clearly spared no expense on this latest endeavor, which he explains as "New York-conceived, Miami-nourished and Milwaukee-born."
I've attempted to call Soho 7 several times, sent e-mail and Facebook messages. None were returned.
Several people have said they heard Soho 7 was closed/closing, and while I don't have confirmation from Mr. Head the "for lease" sign is an ominous sign. I did, by the way, leave a message at the phone numbers on the sign. No return call yet, but I did get an e-mail that read "No answers for you but 2189 square feet at $12.00/square foot equates to $2,189.00/month for 'rent.'  That would seem to me to be absurdly cheap for this finished space."
If it's over, rest in peace - you'll be missed. If it's not, hopefully someone will get back to me, we'll report the full story right here on OnMilwaukee.com and there will be time for another cocktail, or two, at Soho 7. 
Facebook comments
Disclaimer: Please note that Facebook comments are posted through Facebook and cannot be approved, edited or declined by OnMilwaukee.com. The opinions expressed in Facebook comments do not necessarily reflect those of OnMilwaukee.com or its staff.
Recent Articles & Blogs by Jeff Sherman