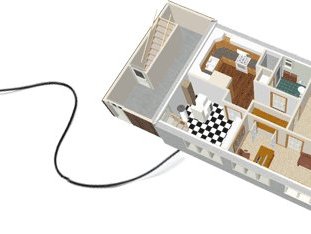 Downtown Milwaukee resident Rich Duprey's new Your Home Plan-it.Com is a Web site that's perfect to handle your next small remodeling project.
Duprey was born in Milwaukee in 1945. By age 12, he started working in the trades at his father's painting and restoration company.
"I didn't think it was what I wanted to do with my life, but when I got back into the trades years later, I found it was very satisfying," he told me.
Duprey's been around the building/construction game for a long time, in a variety of positions for companies like Arlan Realty, Blankstein Enterprises, Neufeld Brothers, Blankstein and Suburban Developers, working mostly as a carpenter / remodeler doing hotels renovations, apartment and condo remodels, and strip mall conversions.
"In 1989 I met Don Pollard of Paul Davis Restoration and worked as one of his restoration contractors until 1991 when I became a sales associate. While at Paul Davis Restoration I learned how to use Xactimate Software and saw its benefits, I took an auto cad course at MATC, and then took a number of courses in using Chief Architect software for remodeling and design work," Duprey said.
Today, he's a Milwaukee/NARI-certified remodeler and owns his own company First Draft Design & Estimating. He's also my neighbor, but this isn't the reason for this blog. The reason is Duprey's new Your Home Plan-it.Com, a Web site that's perfect to handle your next small remodeling project.
When we were looking to do some updates in our home, Duprey was able to easily and cost effectively survey our needs, develop drawings and work with us on possible designs. We didn't have to hire a big firm, expensive architect or design/builder.
I sat down with Duprey recently and asked him some questions about his company and new Web site.
OnMilwaukee.com:  How does yourhomeplan-it work?
Rich Duprey:  The main focus of Your Home Plan-it.Com is to handle the every day projects that involve drawing details for building permits in repairing code violations or doing small remodeling projects. Whether the need is for footing details, decks, headers or beams in cases like moving a wall to enlarge a room. Other examples would be adding a stairway to an upper level or installing a basement egress window. You just go to the service request form and put in your request for the type of service you're looking for.

Using the project starter form, most of the smaller projects can be handled by the room shape tools and adding the dimensions and additional project information, photos, plans, and examples that can be up loaded to the site. We'll than convert them into scaled drawings and 3D perspectives. Through e-mails using PDF files and cad drawings the client will be able to communicate their own ideas as to what they might want to see in the drawings and changes can be made. You won't even need to leave the house.
Larger projects requiring site visits will be sent to nearest available NARI, or ALA member that specializes in the type of building or remodeling service requested.
OMC:  What are, in your opinion, the latest home building and design trends? And what's the best way to build value into a home? Bathroom? Kitchen? Other?
RD:  Kitchen and bath remodels were always considered the main areas that brought the most value to a home. However, the focus is now on how energy efficient and environmentally safe the home is. Through the field of "green technology" new building methods, heating and cooling techniques and materials that are non-toxic and friendly to the environment are being used. This is the future as to what will be considered the most value in a home.
OMC:  What projects are you working on now?
RD:  I'm doing basement remodeling designs with McCoy Contractors and I've recently did a foundation and building plans for an unattached garage set on a hill. My latest project involved drawings for a client in need of plans to rebuild his porch and address foundation issues that had to meet code requirements. I then provide all my clients with the names of reliable contractors from Milwaukee/NARI and other Certified Professional organizations who can get the job done right. 
Facebook comments
Disclaimer: Please note that Facebook comments are posted through Facebook and cannot be approved, edited or declined by OnMilwaukee.com. The opinions expressed in Facebook comments do not necessarily reflect those of OnMilwaukee.com or its staff.
Recent Articles & Blogs by Jeff Sherman