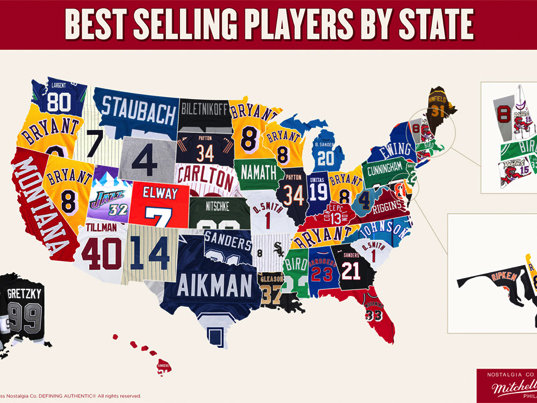 The jersey apparel company Mitchell & Ness released an sales infographic of the most popular "throwback" jerseys by state, and there is a glaring, gold and purple mistake representing the state of Wisconsin:
I had to blink twice before that sunk in.
What? Kobe?
And while that was settling, I look over to the great plains and see "Nitschke" – yes, that Nitschke – somewhere other than Wisconsin!
Tell me why this makes sense:
KANSAS
Ray Nitschke – Green Bay Packers 1966 Replica Jersey
Nitschke spent his entire 15-year career with the Green Bay Packers winning the NFL Championship 5 times including 1966, a season where Ray was also a First-team All-Pro selection. Ray remained popular in Green Bay after retiring, having his phone number and address published in the phone book and appearing in local TV commercials for his auto dealership. His #66 jersey is retired by the Packers and he was elected to the Pro Football Hall of Fame in 1978.
Every Packers fan in the state knows this, no? You know, on account of him being a Packers legend.
But, nah. Kobe.
And, to add salt to the wound, to try and clarify why Kobe is such a hot jersey, it says this …
Really, Mitchell & Ness? See Minnesota?
Ouch.
Well, let's see what it says under Minnesota:
MINNESOTA
Kobe Bryant – Los Angeles Lakers 1996-97 Authentic Jersey
Kobe was the first guard to ever be taken out of high school as the 13th overall pick and in his first season became the youngest player ever to play in an NBA game and the youngest NBA starter ever. During All-Star weekend, Bryant became the youngest player to be named slam dunk champion at the age of 18. Although he initially played limited minutes, his playing time rose throughout the season to the point of taking crucial late shots against the Utah Jazz in the 2nd round of the playoffs.
This makes no sense to me.
But what it does say is that Packers fans are not the best in the country as some polls want you to believe, be…
Read more...