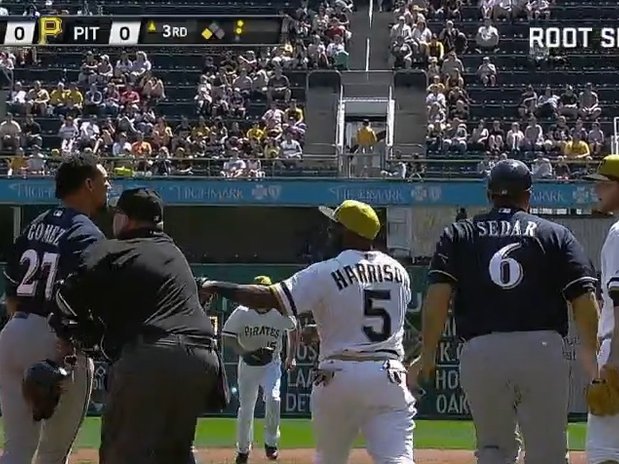 Milwaukee Brewers outfielder Carlos Gomez and Pittsburgh Pirates pitcher Gerrit Cole started one of the biggest baseball brawls in recent memory, leading us to remember the top bench clearing melee's in team history.
1. Mike Caldwell vs. Reggie Jackson
After a couple brush back pitches from the Brewers lefty on July 27, 1979, Jackson threw his bat halfway to mound after popping out to third. Caldwell picked it up, tried to snap it in half, and a brawl ensued with Jackson wrapping his hands around Caldwell's throat.
Two days later, the squads fought again when Jim Gantner caught a forearm from Lou Piniella, clearing the benches – which resulted in Yankees pitcher Luis Tiant emerging from the clubhouse wearing nothing but a towel and clenching a cigar.
2. "Go-Go" goes off in Pittsburgh
This incident led to punches being thrown, including by teammate Martin Maldonado.

3. "The Kid" sticks up for "Gumby"
On July 20, 1982, the benches cleared when Robin Yount ran over Minnesota Twins shortstop Lenny Faedo without sliding in the sixth, in retaliation for Twins first baseman Kent Hrbek going in high on second baseman Jim Gantner in the fifth inning, knocking him out of the game. Hrbek and Brewers pitcher Bob McClure were ejected for fighting.
4. "Scrap Iron" fights everyone
It's truly hard to pick one of former Brewers manager Phil Garner's scraps, because they're all equally ridiculous – but these three definitely stand out:
On July 25, 1993 Garner and White Sox first base coach Doug Mansolino got in a tussle after White Sox announcers Ken Harelson and Tom Paciorek had accused Garner of ordering his pitchers to hit Sox hitters.


Oddly, the brawl on Aug. 24, 1993 started because Oakland A's closer Dennis Eckersley was ejected for arguing balls and strikes, which later led to manager Tony LaRussa's ejection. Garner complained about the time LaRussa's ejection was taking, causing LaRussa to go after Garner. That led the benches to clear, resulting A's reliever Edwin Nunez punching Brewers catcher B.J. Surhoff, sending him to the hospital for stitches. Oakland's Troy Neel also went airborne to tackle Dickie Thon.


July 22, 1995 was the date of Garner's most famous incident, which actually began when third baseman Jeff Cirillo and White Sox shortstop Ozzie Guillen began shoving each other when Cirillo fell on him during a stolen base attempt. Attention turned to Garner (of course) when he tangled with Sox manager Terry Bevington.
5. Wilson tosses his bat
This one is a little more obscure, but Garner's reputation had something to do with it (naturally) and anytime equipment is thrown it's notable. It happened in spring training of all places, on March 20, 1994 when Chicago Cubs outfielder Willie Wilson threw his bat at Brewers pitcher Ricky Bones after being brushed back.
Facebook comments
Disclaimer: Please note that Facebook comments are posted through Facebook and cannot be approved, edited or declined by OnMilwaukee.com. The opinions expressed in Facebook comments do not necessarily reflect those of OnMilwaukee.com or its staff.
Recent Articles & Blogs by Jim Owczarski