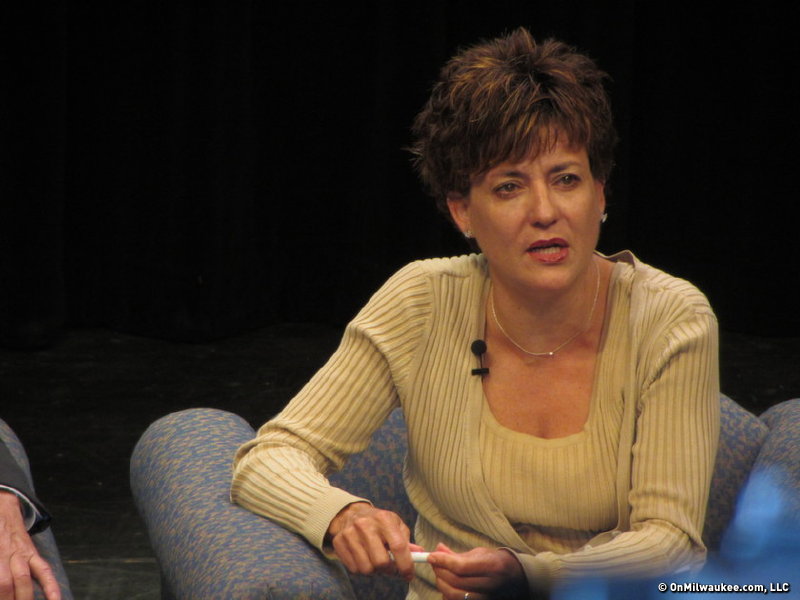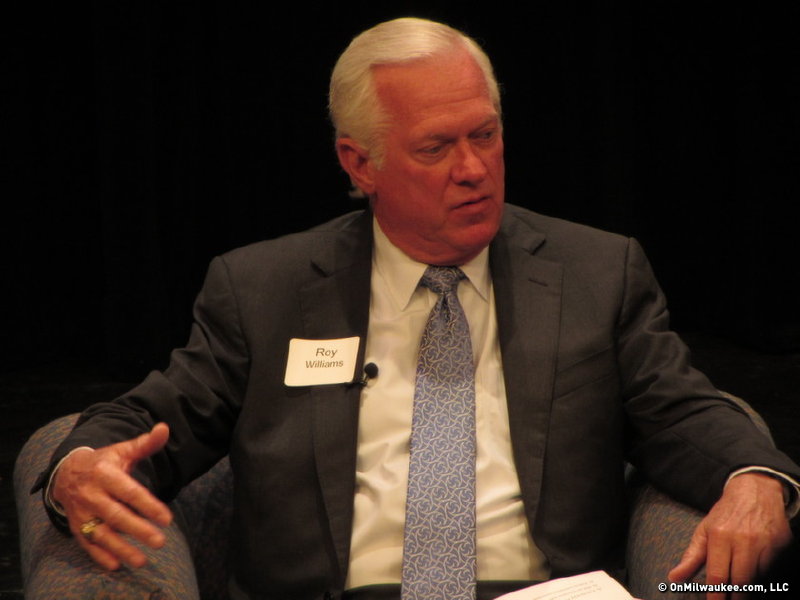 The Cultural and Entertainment Capital Needs Task Force hosted a panel Friday morning featuring guests from Denver, Oklahoma City and Cleveland – and while topics such as new arena, transit and taxation were covered – the main takeaway was that these visitors feel Milwaukee is at its tipping point culturally.
Nearly 200 people filed into the Todd Wehr Theater in the Marcus Center for the Performing Arts Center to join chamber of commerce presidents and chief executive officers Roy H. Williams (Oklahoma City), Kelly Brough (Denver) and Joe Roman (Cleveland) for an hour-long discussion about what their cities have done to revitalize and expand their cultural and entertainment districts. It was near the end of the panel when the trio was asked about its perception of Milwaukee that things got really interesting.
After a pause, and some kind words about the foundation provided by the lakefront, the Milwaukee River and Lake Michigan itself, Brough said:
"I think how I look at it is this is it's in a transition area, and this is the moment where you get to decide, do we tip it? I'd say this is where we were as a city about 20 years ago. Are we going to make the investments and make a run at the things that will tip us to be a city of the world, not a city in the United States."
The three panelists all admitted it's a long, difficult process with no true blueprint – no "magic formula" – but it requires investments in land, amenities, transit, public space and growing the city's brand globally.
But, starting that investment now is vital.
"The intensity of the moment is greater than ever," Brough said. "Our history has been one that says just attract that company and we'll be fine. What we know is, the reality is, that company's not going to come without the workforce, so you have to do both. And to create the future you want, you have to say what's it take to get the company and you have to say what's it take to get the workforce, or keep the workforce; and I think your strategies right now are about what is it take to keep that workforce you have a nice long list of things to do and I'd say be bold and start."
Williams added: "You really have to feel a sense of urgency. The country is changing. It's becoming urban. There's going to be winners and losers. And every day you wait, your competition is doing something to be a winner. We all have hundreds of peers around the United States and we know what they're doing, and they're not waiting."
The three panelists tied that urgency to the millennial generation that wants to live and work in an urban environment, but wants that environment to have ways to move in and around it, museums and other cultural showpieces that are vibrant – and yes, sports teams and venues that fit that same bill.
"They're not necessarily coming here unless you create a place that they want to be," Williams said.
"We don't know what a generation from now will be like, but I think we can feel pretty confident that they're going to want to live in cities, they're going to expect cities to have assets that candidly, other places can't have," Roman added. "And those will be choices people make.
Simply, as Roman added, "people aren't attracted to cities because there are lots of people there, it's because there are lots of things there that are different than any other place they can be."
Talkbacks
InTheView | July 18, 2014 at 12:29 p.m. (report)
The only person that should be on this panel is the lady from Denver. Cleveland is a cesspool and Oklahoma City is a suburb of itself. Cleveland is the only major metropolitan area larger than 1 million people to lose population in the last five years. And Oklahoma City's metro area is stagnant (sitting at 1.25 million people for 20 years), and the only reason why the city is growing is because it annexes & develops every piece of land it legally can. Denver, on the other hand, is a naturally growing cultural center. If you look at Denver 30 years ago, you'd see the exact same city as Milwaukee. The same size, density, population, everything. A 3rd Tier city with a changing economy. Instead of watching the wheels fall off, Denver developed itself into a major contender.

Milwaukee lost an entire generation due to the previous generation dragging its feet in the dirt. We've finally rebound to where we were 30 years ago. If leadership would have stepped forward 40 years ago and prevented the rust from setting in, we would be in the same place Minneapolis, Seattle, or Denver is. It's good to see the investment infrastructure and business development around the area that we've received in the past 5-10 years. But unless we get a few major deals together (ie, the arena), we're going to lose another generation.
Facebook comments
Disclaimer: Please note that Facebook comments are posted through Facebook and cannot be approved, edited or declined by OnMilwaukee.com. The opinions expressed in Facebook comments do not necessarily reflect those of OnMilwaukee.com or its staff.
Recent Articles & Blogs by Jim Owczarski