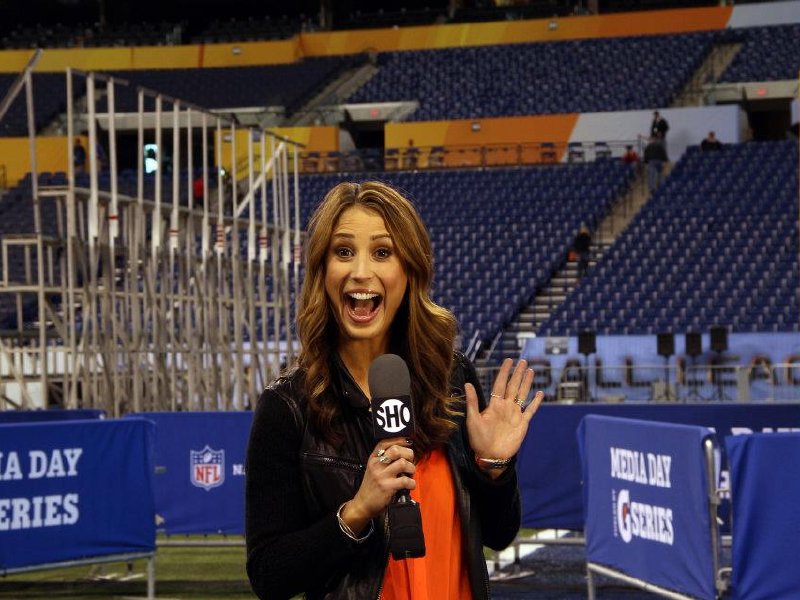 There's mini-media storm brewing in Chicago, but you may have heard about because it started with a viral video and ended with, well … somewhat viral videos.
Susannah Collins is now the former "sideline" (side ice?) Chicago Blackhawks reporter for Comcast SportsNet Chicago and she was removed from her position due to the discovery of some of her past work by the brass of the Blackhawks.
How did this come to light?
It started with an innocent faux paus on her part during a recent telecast, which of course became fodder for the blogosphere and entertainment websites.
That led to massive web searches for her name (and presumably that full clip) which unearthed some webisodes from a show she co-hosted called Sports Nutz three years ago.
Those shows didn't quite jibe with the image the Blackhawks want to maintain on the network they co-own with Comcast and the Chicago Bulls, White Sox and Cubs and they removed her.
This once again brings to light an issue I talk to college students all the time about: Whatever you put on the internet, stays on the internet, and someone will find it.
I think grade school and high school aged kids realize this, as their entire lives are being documented online in pregnancy blogs, birthing blogs, parenting blogs, Facebook updates and Tumblr accounts. Some 10-year-old out there has their entire life already documented online by their excited parents.
But for those in their 30s, and even college-aged kids, The Google is not your friend when it comes to "growing up." Our parents documented our lives with film and tape and CDs. We're learning how to manage all this stuff, and quickly, but it's something we've had to adjust to on the fly.
Most of us know to not put your high school kegger photos online, tweet the bong hit you took in your dorm, or Tumblr the half-naked selfies you took after your workout.
But Collins' plight shows that you have to be smart in your work decisions, too.
Whether you want a career in media or not, remember to choose what you write, post, and record online. At some point, years down the road even, that early stuff will likely be found once again.
Facebook comments
Disclaimer: Please note that Facebook comments are posted through Facebook and cannot be approved, edited or declined by OnMilwaukee.com. The opinions expressed in Facebook comments do not necessarily reflect those of OnMilwaukee.com or its staff.
Recent Articles & Blogs by Jim Owczarski