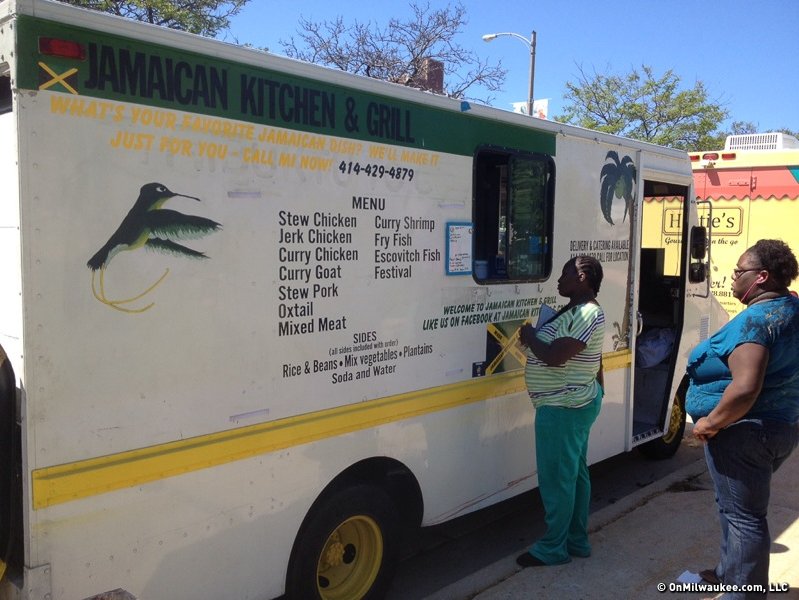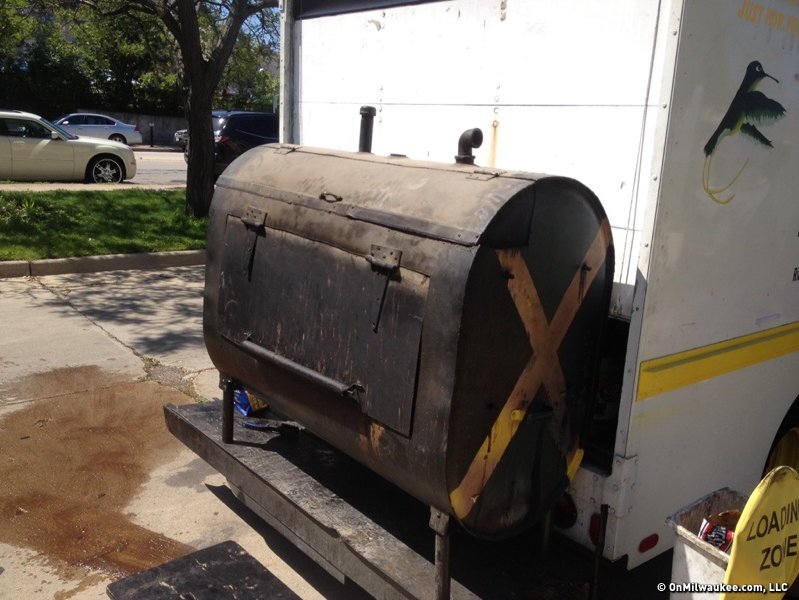 Wait up, summer's not over yet. You can tell because the streets are still lined with the ever-growing food truck culture in Milwaukee. It's Food Truck Week here at OnMilwaukee.com and all week long we're stopping at some of Brew City's best restaurants on wheels in search of the most interesting dishes on offer.
I typically don't run across many food trucks day-to-day as I'm running between Lambeau Field, Miller Park and the Bradley Center -- but on my way to Green Bay today I shot down Wells toward I-43 for a quick bite, and the Jamaican Kitchen and Grill Food Truck was a nice surprise.
I was first in line, and was quickly joined by nearly a dozen others as the truck opened up just out in front of the Milwaukee County Courthouse.
The daily special was written on a white board -- today was jerk and curry chicken as well as ox tail. 
I decided on the curry chicken, and while I like spicy dishes, I have never found a curry to my liking. So, I'll be completely honest -- I was skeptical with this order.
The dish was served quickly, and I was more than pleasantly surprised with how tender the meat was and how well seasoned this dish was as a whole. The curry had the right amount of heat -- perfectly done, at least for my palate. Spicy, but not overwhelming.
The meat was very soft (fall of the bone soft) and juicy, and the rice, beans, orange and red peppers, onions and carrots underneath were great complement.
It was also at a great "to go" temperature in that it was hot, but not so hot that you had to wait to eat it. After all, I needed to get this and go! The small dish is only $5.99 and it comes with the veggies and rice and beans, and it's more than filling. A large is $10.99.
But, one thing to know about this dish, though -- don't eat it too quickly because the bone is soft, too, and pieces did break off into the dish.
It's Food Truck Week here at OnMilwaukee.com, so I can only encourage you to do what I did today: Jump in the car, or take a walk out of the office, and go experiment. You never know what treat you might find!
Facebook comments
Disclaimer: Please note that Facebook comments are posted through Facebook and cannot be approved, edited or declined by OnMilwaukee.com. The opinions expressed in Facebook comments do not necessarily reflect those of OnMilwaukee.com or its staff.
Recent Articles & Blogs by Jim Owczarski