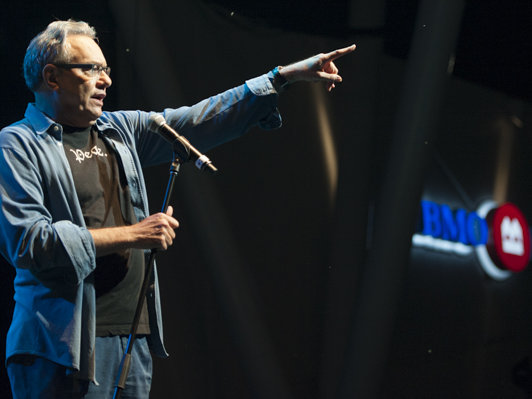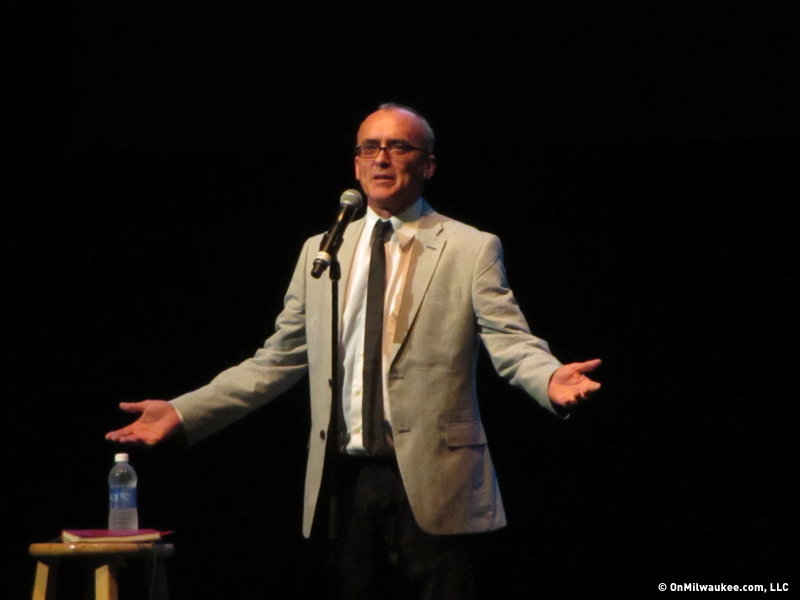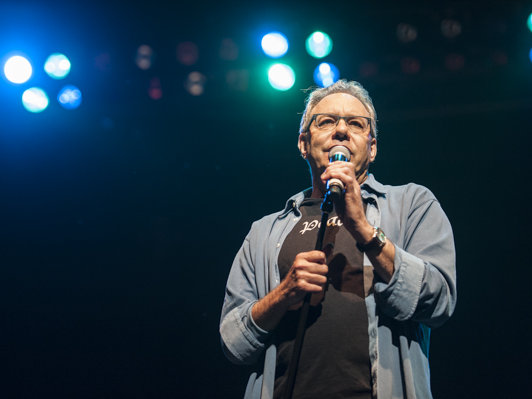 After a five-year hiatus, comedy returned to Summerfest on Friday night as Lewis Black headlined a night of stand up at the BMO Harris Pavilion on Day 8 of the Big Gig.
Rather than re-introducing comedy to festival goers by putting the acts in a tent off a side stage – or on a side stage itself where the surrounding sound would really bleed over – Summerfest hoped the pavilion's lakefront location would allow for a good setting.
For the most part, it worked. Sound did bleed over from the Tim McGraw show at the Marcus Amphitheater, but the music turned into white noise once it got going consistently. The fact that it was not an act that had hard-charging and changing basslines probably helped, too.
Mike Wilmot, Black's second opener after John Bowman, acknowledged the music at a couple points during his 24-minute set, and Black did, as well, but it shouldn't have been that distracting for those who purchased tickets in the lower bowl.
The three comedic veterans were perfect choices for the re-introduction of the genre to Summerfest. Less experienced comics might have been rattled by the music, as well as the flock of bugs that swarmed the spotlight around their heads, yet all handled it professionally and, naturally, with humor. As Black thanked the crowd on the way out, he quipped "The opportunity to do a duet with Tim McGraw for an hour is something I'll never forget."
Black worked through a cough and some new material, so there were some fits and starts during his 60-minute set, but his sometimes manic, hesitant style helped ease the audience through any unplanned pauses.
The 64-year-old social satirist was enthusiastic about returning to Summerfest and Milwaukee and the audience was just as happy about having him back – he entered to a rousing standing ovation – and he opened with some standard fare ("You are the people who taught me how to drink") and early Summerfest memories of dying on stage and dealing with an over-active crowd willing to let him know about it.
He only had to pause to address the audience twice during his routine – both times within the first six minutes – and did so with enough vigor that he was allowed to continue uninterrupted.
Known for his oft-politicized guest spots on "The Daily Show," it was inevitable he would rub the raw nerve of someone near the front of the stage, and he did – something he cut down before it could get too out of hand: "Let's get this on the table right now – if you're a Republican or a Democrat, as far as I'm concerned, you're a douchebag."
Black riffed on how bad the 21st century has been – due in large part to his generation – who only ever wanted to hang out and make stuff up rather than actually do anything.
"We were supposed to change the world. And we did. We fucked it up," he said.
He them moved into routines you might expect - social security, the national healthcare system and alternative energy.
But he also dipped back to his youth for some observational humor about then and now, harkening back to a time of three TV channels (and free television), the fact that there was no diagnosis for attention deficit disorder and the "horrific" invention that was Facebook before bringing it back to Congress.
His set ended sort of meekly as he worked through a Girl Scouts bit, but he managed to get a few solid laughs. The sizable crowd (though not a sellout) wanted to love him and they did – and when he asked to have the crowd let Summerfest know comedy should be back in 2014 he received a tremendous standing ovation.
From the moment Black came on to the BMO Harris Pavilion stage at 8:55 to introduce his longtime friend Bowman to the time he bid adieu just a few minutes shy of two hours later, the audience was in to it, ready to laugh, and willing to push the music to the side. Black, Bowman and Wilmot were funny, handled a difficult atmosphere beautifully, and the crowd responded. Summerfest would do well to bring the laughs back again.
Facebook comments
Disclaimer: Please note that Facebook comments are posted through Facebook and cannot be approved, edited or declined by OnMilwaukee.com. The opinions expressed in Facebook comments do not necessarily reflect those of OnMilwaukee.com or its staff.
Recent Articles & Blogs by Jim Owczarski