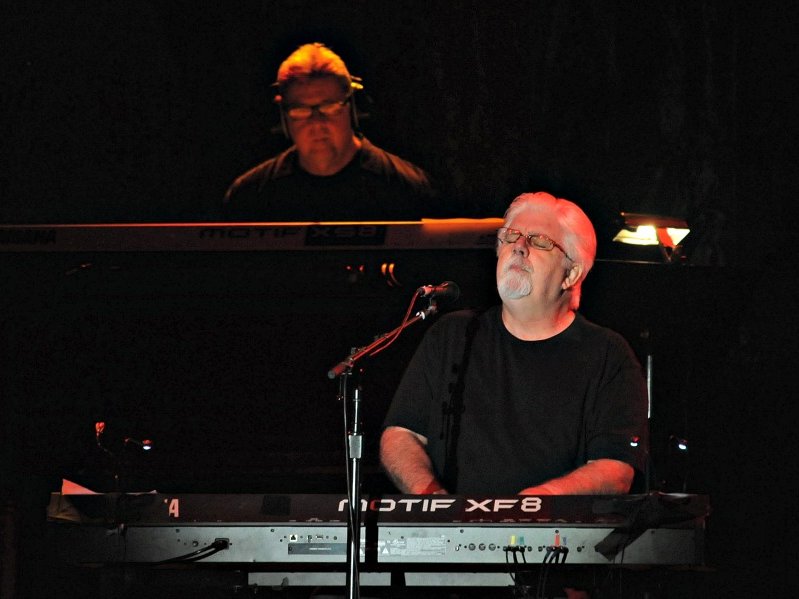 Michael McDonald is into his 60s, and has been performing since 1970, so while he didn't go all-out through a full 90-minute set on Saturday night at Summerfest, he sounded crisp and provided his patented mix of pop and soul with gusto and even mixed in some different covers at the Uline Warehouse stage.
He took the stage promptly at 10 p.m., and he exited following a spirited encore at 11:23 – and in between he took some vocal breaks to feature his band and accompanying vocalist Drea Rhenee, while also talking to the crowd.
The former Doobie Brothers front man began his set with two of the group's tracks, "Here To Love You" and "It Keeps You Runnin'" which led right into "Sweet Freedom," his 1986 single off the "Running Scared" movie soundtrack.
He paused after these three songs to introduce his band, which included Bernie Chiaravalle on guitar, Dan Needham on drums, Tommy Sims on base, Pat Coli on keyboard and Mark Douthit on saxophone and keyboard.
McDonald is known to pay his group compliments and allow them to shine individually with solos, but he also took the time to thank his stage crew before making a joke heading into his next song: "As I get older, it came to mean something totally different – this song is 'I Keep Forgettin.'"
It was well rehearsed, but the crowd laughed and roared with approval as he played his 1982 hit, which was originally recorded by Curtis Jackson 20 years prior.
After "You Belong To Me" he transitioned into covers.
This is where he seemed to hit his stride, beginning with "I Heard It Through The Grapevine." Prior to that, I wasn't sure if his mic was a bit low, or if it couldn't quite catch all of his notes as he bounced behind his keyboard.
But, perhaps he was gearing up for a song he clearly loved to sing – as he introduced it as "one of the prettier songs to ever come out of Nashville" – Ray Charles' ballad "You Don't Know Me."
This song was all McDonald, with Douthit assistant on the sax. He was clear, strong and one of the most distinctive voices in all of music carried it through.
Over his final six songs, he mixed in one original recording ("Ain't No Love To Be Found"), three Motown covers and two Doobie Brothers' tracks, including his set-ending "What A Fool Believes."
After a very brief pause, McDonald and the band were right back on stage for the encore, which McDonald dedicated to Bobby Womack, who passed away on Friday.
The encore began with Sims leading the way on the vocals for "Change The World," the Grammy-winning song he wrote for Eric Clapton.
McDonald then mixed it up a bit with a Stevie Wonder medley of his 1974 No. 1 hit "You Haven't Done Nothin'" into his 1972 hit, "Superstition." McDonald then ended the spirited encore with "Takin' It To The Streets" from the eponymous 1976 Doobie Brothers record.
If you think you missed something – you're right. McDonald did not perform the 1983 single "Yah Mo B There," which he performed with James Ingram. Although post-show, no one seemed to notice.
McDonald, who will be heading on a month-long, late-summer tour with Toto that begins in August, proved he's a true stage professional. His forward-facing keyboard allowed you to see his legs bouncing, and he moved quite a bit behind his keys. While that may have contributed to some of his vocalizations fading in and out, you didn't feel like you missed the song.
Rhenee was excellent, and she is more than a background singer – especially when it came to some of the Motown duets like "Ain't No Mountain High Enough."
Milwaukee's own Streetlife opened for McDonald, and they were a treat – especially if you've only ever heard them in the BMO Harris Bradley Center at Milwaukee Bucks games. It was nice to see them on a stage, and they commanded it well. The band was crisp, and their renditions of "Happy" and "Sex Machine" got the crowd up and moving.
Setlist
Here To Love You

It Keeps You Runnin'

Sweet Freedom

I Keep Forgettin' (Every Time You're Near)

You Belong To Me

I Heard It Through The Grapevine

You Don't Know Me

Stop, Look, Listen (With Your Heart)

Ain't No Love To Be Found

Minute By Minute

Ain't No Mountain High Enough

Ain't Nothin' Like The Real Thing

What A Fool Believes
Encore
Change The World

You Haven't Done Nothin' / Superstition

Takin' It To The Streets
Facebook comments
Disclaimer: Please note that Facebook comments are posted through Facebook and cannot be approved, edited or declined by OnMilwaukee.com. The opinions expressed in Facebook comments do not necessarily reflect those of OnMilwaukee.com or its staff.
Recent Articles & Blogs by Jim Owczarski