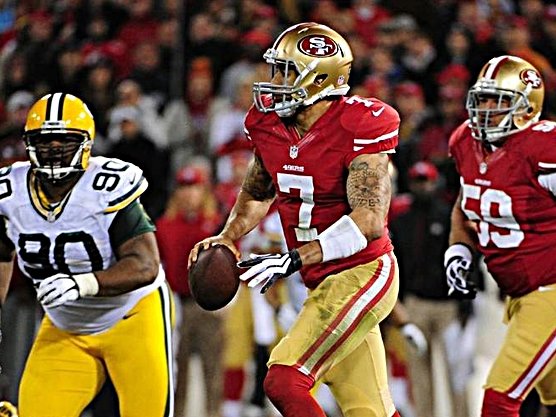 The 2012 season came to an unceremonious end Saturday night for the Green Bay Packers, a 45-31 drubbing at the hands of the San Francisco 49ers out on the West Coast.
We'll have more on this during the week here at OnMilwaukee.com, but the initial reaction can't be that of total surprise – and the hurt has to be less than what was felt following a 15-1 season a year ago.
While I firmly believed the Packers would be hosting the Seattle Seahawks next Sunday, I didn't think it would be a cakewalk over the 49ers. For much of the year, many felt San Francisco was the best team in football, but I felt the Packers had enough going for them to overcome Colin Kaepernick in his first playoff start.
Boy, did I ever underestimate the Milwaukee native. Or, perhaps I felt too good about this Packers defense. I wrote off the regular season performances against Adrian Peterson as aberrations, and felt vindicated by their play last week.
I never expected defensive coordinator Dom Capers and the Packers defenders to be so overmatched against Kaepernick, both on the ground and in the air.
He led scoring drives of 80, 80, 80, 93 and 93 yards. He helped the 49ers gain over 300 rushing yards and over 500 yards of total offense by rushing for 181 and throwing for 263 and accounting for four touchdowns. Time and again he fooled the Packers linebackers on the read-option, and blew by defensive backs for additional yardage.
He made his progressions in the passing game, zipped passes into tight coverage and prevented the defense from truly being able to key in on him and Frank Gore in the run game.
Rodgers ended the day with some nice stats, but even he admitted postgame his crew did not do enough.
Many fingers will be pointed at Capers, Erik Walden and the Packers defense – and they should be – but the harsh reality of Saturday's game is this: Colin Kaepernick, not Aaron Rodgers, was the best quarterback on the field.
Facebook comments
Disclaimer: Please note that Facebook comments are posted through Facebook and cannot be approved, edited or declined by OnMilwaukee.com. The opinions expressed in Facebook comments do not necessarily reflect those of OnMilwaukee.com or its staff.
Recent Articles & Blogs by Jim Owczarski