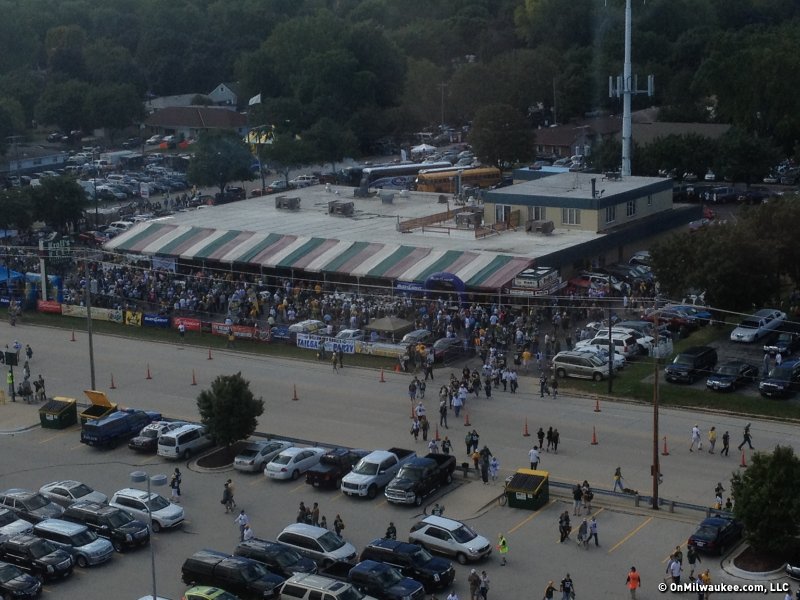 It's the best. We've been blessed. This will be six out of seven times we've opened up here in my time. The kickoff game is always a little special. It is really one game and it's important to keep it in perspective but it's the stat of the season, it's the starting line and there's no better place to start as there is at Lambeau Field. It'll be a great environment. – Mike McCarthy, Green Bay Packers head coach
GREEN BAY – Growing up and then working in Chicago and the surrounding suburbs, I always heard about how special Lambeau Field is. I heard it from many Bears players, media and even a few people who had attended games.
As I got older and gained a deeper appreciation for the history of sports and historic venues, visiting in some capacity was definitely on the sports bucket list.
Once in the workforce, I learned a few more details about the stadium and the surrounding community. The one that stuck out was that you would drive through this sleepy neighborhood and suddenly, a stadium appears.
It was a scene that seemed implausible to me. I knew Green Bay wasn't the biggest city in the world, so how could a stadium of that size be "hidden?"
I discovered that in my first trip up a few weeks ago, as I'm heading across Mason Street and then down Oneida Street and wondering where the heck this 70,000 seat structure was. Then, sure enough – boom – stadium. Just like they said. I kind of chuckled as I turned into the parking lot adjacent to the atrium.
My first preseason game just happened to be the Packers' last of the exhibition schedule, yet the stadium was full (or close enough). That amazed me – I've seen plenty of fourth preseason games that played to a third of a house.
What caught my eye on the way in, though, were the parking flag wavers trying to coax fans into the lots of gas stations and retailers.
No way do people tailgate at a gas station, I thought.
On my way in this afternoon however, sure enough, weekend meats were being carefully prepared and frosty beverages were being handed out just steps away from the regular unleaded. Full service, indeed. It was fascinating.
Kroll's, directly across the street from Lambeau off Ridge Road, was rollicking.
Now, I haven't covered or attended NFL games around the entire country, so I can only compare this experience to what I've seen at Soldier Field in Chicago, Lincoln Financial in Philadelphia, Ford Field in Detroit, the old Metrodome in Minnesota and the Edward Jones Dome in St. Louis.
Each venue and fan base has its own characteristics, but nothing was quite like this. On my way up to the press box, the world "collegiate" was tossed my way – and that's exactly right – from the sense of community to the alternating green and gold shirts draped across the bleachers awaiting its occupants.
The fans compared favorably their rivals in Minnesota for their hospitality and overall niceness, as fans wearing San Francisco 49ers gear (and even some Dallas Cowboys apparel?) were treated well.
Thanks to some sage advice from a few veteran Packers reporters, getting into the city and the parking lot was an absolute walk in the park compared to accessing some of those other venues.
As far as the important stuff goes, this is a great place to work, from the spacious facilities to the ease you can move about postgame to the staff on hand to assist with problems or questions. That's what I'm here for, but I can't help agree with what Milwaukee Bucks rookie John Henson told me a couple weeks ago: 
"If there is one place you want to go to, to tour a facility and be there for the first time, I think this is the place to be," he said. "From walking through the tunnel and the concrete that was placed there way back when to seeing the old players, seeing new players – it's an experience I'll never forget."
xtqvxersrqxbwqdwax
xtqvxersrqxbwqdwax
Facebook comments
Disclaimer: Please note that Facebook comments are posted through Facebook and cannot be approved, edited or declined by OnMilwaukee.com. The opinions expressed in Facebook comments do not necessarily reflect those of OnMilwaukee.com or its staff.
Recent Articles & Blogs by Jim Owczarski